Human skull found at Camp Verde's Black Bridge
Bill Helm, Special to The Daily Courier
Originally Published: July 21, 2016 6:16 a.m.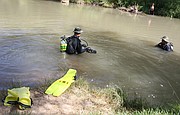 CAMP VERDE – Monday, three teenagers spent the afternoon fishing on the Verde River.
At 4:55 p.m., their outing ended, when they found a skull in the river about 150 yards north of Black Bridge.
Wednesday morning, Deputy Sheriff James Cesolini, dive coordinator for the Maricopa County Sheriff's Office, briefed Camp Verde Marshal's deputies and Copper Canyon Fire and Medical Authority firefighters before canvassing about 200 yards at Black Bridge for possible remains that may or may not be connected to the skull.
"The skull that was recovered had no meat on it, no flesh, nothing," Cesolini said during the briefing.
With deputies and firefighters on site, Cesolini said his dive team would spend the morning, and possibly into the afternoon combing through the river. According to Camp Verde Marshal Nancy Gardner, the skull was found "approximately 10 feet from the shore, where the water is about four feet deep."
"The kids were walking across the river," Gardner said. "They looked down, saw the skull – and they freaked out."
Gardner also said the teens "did the appropriate thing" and contacted the Marshal's Office.
Camp Verde Det. Steve McClure and Sgt. Laura Robinson responded to the call and recovered the skull, which was later taken to the Yavapai County Medical Examiner's Office. From there, a forensic anthropologist with the University of Texas will attempt to determine the gender, age and ethnicity of the skull, as well as the time of death.
Though the Marshal's Office is not certain how long the skull had been in the water, Gardner said "it appeared to be there for quite some time."
"It looks like it's been there for a couple of years," Gardner said.
CVMO is also investigating the possible connection to any missing persons or previous homicides, such as the June 2013 death and dismemberment of Dwayne Beauty. According to a statement released by the Marshal's Office to the dive search team, "the top portion of [Beauty's] head was never recovered, and it's possible, the skull may be related to the murder of Beauty."
Said Marshal Gardner, "We want to make sure we're being thorough, regardless of whether it may be related to a previous crime."
More like this story
SUBMIT FEEDBACK
Click Below to:
This Week's Circulars
To view money-saving ads...