Chew On This: Prescott Public House owners bring new life

By
Max Efrein
|
mefrein
Originally Published: July 21, 2016 9:09 p.m.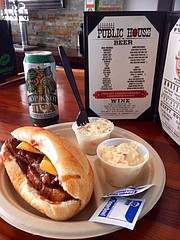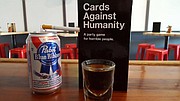 Essentials
Who: Prescott Public House
Where: 218 W. Gurley St.
Phone: 928-277-8062
Online: AZPrescottPublicHouse.com
There's nothing quite like a firstborn to make a young couple reevaluate their lives.
Shortly after the birth of Skylar Rose Walters, Phoenix residents Bethany and Mark Walters were tipped off that the space formerly occupied by The Drunken Lass Irish Pub in Prescott was available for lease.
"We came up, we looked at it and we loved it," Mark said. "So me and my wife just kind of sat down and had that existential conversation of well, where do we want to raise our kid."
"The idea of raising a family in Phoenix just terrified me," Bethany said.
Both had extensive experience as bartenders and Mark managed a couple bars on Mill Avenue in Tempe for several years, so they believed they knew enough to open and run one of their own.
Within about six weeks of signing the lease in early May, the couple hosted a soft opening in mid-June for their first joint business venture, Prescott Public House.
Despite the quick turnaround, one may barely recognize the new bar when comparing it to its predecessor.
"The easiest way to put it is we took a very disorganized, cluttered space and cleaned it up, made sense of it, and utilized what a wonderful space that it is," Mark said.
Keeping much of the bar top the way it was, they essentially freshened up the place with a new coat of paint, removed most of the items hanging from the walls, revamped the sound system, renovated the bathrooms, renovated the floors, shifted around seating and removed all excess items congesting the patio.
"What we're going for is a really comfortable spot to socialize with your friends," Mark said.
To do this, the couple is focused on encouraging their patrons to come by and just hang out. There are board and card games to play, a chalkboard table on the back patio to doodle on and a Munchies Menu to order from.
Randomized barbecue dishes such as beef brisket sandwiches or smoked bratwursts are also offered every weekend.
Going forward, they hope to expand their draft beer selection by installing a larger tap system and finding ways to utilize their back patio space as much as possible.
"This place will continue to improve as we stay open," Mark said. "I built it all myself, from doing the floors to building that beautiful stone back bar with all of the mirrors on it."
To find out what weekly and special events are going on at Prescott Public House, turn to either Kudos Nightlife or KornuKopia.
More like this story
SUBMIT FEEDBACK
Click Below to: