Prescott Film Festival celebrates 7 years ... 14 movies, 21 shorts, 10 workshops, 17 student films

Originally Published: July 15, 2016 12:59 a.m.
The 7th Annual Prescott Film Festival (PFF) begins its kickoff this Sunday afternoon with a gathering of movie buffs for a wine tasting at 3 p.m., July 17, and a film noir experience afterwards as the eight-day 2016 Festival commences on the Yavapai College campus.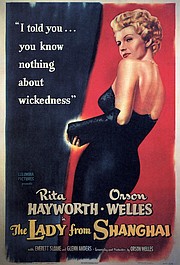 The 1947 film noir – following pinot noir – is The Lady from Shanghai starring Orson Welles and Rita Hayworth. Special guest, Beatrice Welles, daughter of Orson Welles, will answer questions following the screening. The wine tasting provided by Del Rio Springs, Prescott Winery and Hensley Beverages, with appetizers by Soldi Creative Cuisine, plus movie, is $35; movie only is $12.
In years past, the biggest complaint participants had was "It's too hard to choose!" said Helen Stephenson, PFF executive director, so movie scheduling has changed. This year, Saturday is the only day people will have to choose between two selections, both are Arizona premieres.
Cowboy Christmas, 75 minutes, is about four professional rodeo cowboys during the two-week summer circuit, and includes the Prescott rodeo. It is paired with the 29-minute short documentary, His Name is Midnight, about a rodeo horse.
"The horse films sell out every year," Stephenson said. She encourages purchasing tickets in advance.
The two films appeal to two different audiences. Liza the Fox Fairy shows at the same time, 4 p.m. This Hungarian subtitled film is one of Stephenson's two favorite selections this year. "For the sheer love of weird, funky independent films, I would pick Liza the Fox Fairy. It's so funny." It is paired with Mildred and the Dying Parlor, a comedy/fantasy about a family who runs a dying parlor out of their home.
Stephenson's other favorite pick, La Belle et la Bete, a retelling of The Beauty and the Beast, is a subtitled French film she describes as "most beautiful." It is paired with a Spanish narrative short of 8 minutes, Todo lo Demas (Everything Else).
Other special events include a coming-of-age look at immigration, Growing Up Smith, at 7 p.m. on Saturday, July 23. The film's writer, actor and producer, Anju Nigam, will answer questions following the screening, and a Cabaret Party afterwards includes music, appetizers and a cash bar.
If you want a taste of how films can tell a story in 29 minutes or less, check out Saturday's 1 p.m. showing of short films. The longest of the shorts, Munich 72 and Beyond, offers new information about the kidnapping and murder of 11 Israeli athletes at the 1972 Summer Olympics. At 13 minutes, JFK's Last Interview dramatizes a 13-year-old's questions to President Kennedy the day before his assassination.
Ten workshops are free to the public and include two Academy Award members as presenters. Participants can learn about film preservation, screenwriting, financing projects, the use of sound in horror movies, finding employment, editing, and storytelling.
The Saturday morning showing of Lives Well Lived is touted as a work in progress with a collection of interviews of 40 people ages 75-100 answering the question of what defines a life well lived. Question and answer period follows by Skype with the director.
Community support of middle and high school students' foray into filmmaking concludes the Festival on Sunday at 2 p.m. with shorts ranging from 2 to 15 minutes.
So why attend any or all of the films this coming week?
"Because we long for films that make us think. Make us ask questions of others and ourselves," Stephenson wrote in this year's program. "We laugh, we cry, we are inspired, we are motivated, we are outraged, we are delighted."
For more information, visit prescottfilmfestival.com, or call 928-458-7209.
SUBMIT FEEDBACK
Click Below to:
More like this story