Community gains McCain's support in Superfund site cleanup
According to the town council, Dewey-Humboldt residents are getting impatient with the federal Environmental Protection Agency's lack of progress to clean up contamination left by former mining operations at the town's Superfund site, which includes the Iron King Mine and the Humboldt Smelter.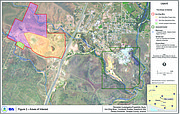 In this rural community where many do not subscribe to government "interference," council members have asked a U.S. senator to insist the federal agency speed up its investigation process.
Several months of correspondence and discussion of appropriate responses from the council culminated in Sen. John McCain's letter to the EPA on May 25, in which he asked on behalf of the town, for a completion date for EPA's study, a proposal to remove contaminants, and a public comment period.
It began in January when Dewey-Humboldt (D-H) Mayor Terry Nolan mentioned to McCain a proposal to build a state park on the contaminated property – once EPA cleaned it up, of course. This surprised some council members because the council had not discussed or come to consensus on a state park or any clean-up solution. EPA hasn't yet issued its Remedial Investigation report outlining options.
McCain's office sent the mayor a letter dated Feb. 5 stating his willingness to help, but he needed a "united direction" from the council to do so.
The town council responded in March with a letter thanking McCain for his offer to help spur EPA in its efforts. It said the community has experienced health issues and the drawn-out process has "thwarted economic development."
McCain has since inquired about the status of the site in correspondence with Gina McCarthy, EPA administrator. He wants to know when the EPA will complete its study of cleanup options and when the public comment period will take place. He also mentioned 75 percent of residents are served by private wells.
EPA Acting Regional Administrator Alexis Strauss provided an update to McCain and said she shares his concern about drinking water.
"Our data indicate that the former mine and smelter are not impacting the drinking water," Strauss wrote in a June 16 letter. "However, local groundwater has variable natural levels of arsenic and other metals."
She encourages residents with private wells to test their water and, if arsenic levels are above federal safe drinking water standards, to implement treatment. Councilmember Dennis Repan successfully fought for the addition of funds in the town's 2016-17 budget for water test kits for anyone concerned about well water quality.
"Contrary to the EPA statement that the groundwater is not being affected, many are seeing elevated levels of contamination in comparison to testing that was done just a few years ago," Repan said.
Two agenda items asking for discussion on a response to McCain (brought by Councilmember Arlene Alen) and to EPA (by Nolan) at the July 5 D-H council meeting were tabled due to Nolan and Alen's absence.
As for McCain's call for a public comment period, EPA Press Officer Margot Perez-Sullivan said, in an email dated June 22 to the Daily Courier, the law requires community involvement.
"After the investigation is completed, EPA announces and presents its proposed plan for cleaning up contamination at the Superfund site in public meetings, and asks the public to submit comments on the plan during a 30-day public comment period," Perez-Sullivan said.
EPA staff, as well as representatives from the Arizona Department of Environmental Quality and Yavapai County Community Health Department, have met somewhat regularly over the past 10 years to keep the D-H community updated on the progress of the study.
More like this story
SUBMIT FEEDBACK
Click Below to: