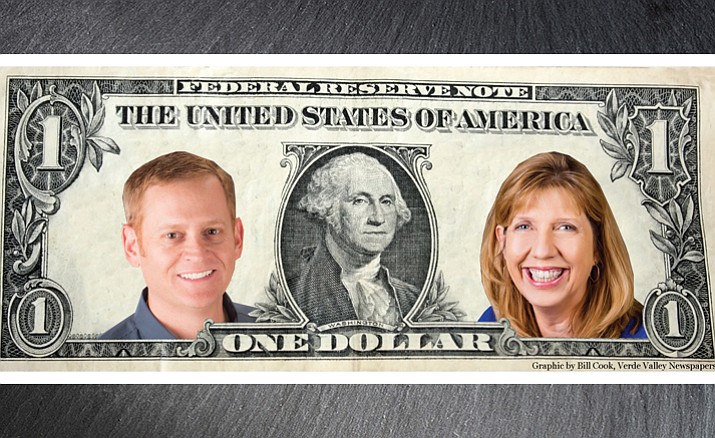 Originally Published: July 6, 2016 6 a.m.
With incumbent Yavapai County Assessor Pam Pearsall facing re-election against real estate appraiser Judd Simmons, a question voters may have on their minds is "Who is supporting each candidate?"
The assessor job and the candidates
The job of the assessor is to identify and value properties in accordance with state law, which is reflected in property taxes.
Pearsall is seeking her third term as county assessor. Past associations include those representing manufactured housing and Realtors, as well as running her own appraisal business.
Her opponent has been president of Simmons Appraisal Services, Inc. in Prescott for 17 years and is a Realtor. Both candidates are Republicans and members of the NRA.
What the law allows
Arizona Revised Statute "Title 16 Elections and Electors" spells out the "dos and don'ts" of election law. It contains over 370 laws dealing with everything from eligibility to political signs. Fortunately, state and county election offices summarize the key points.
According to the Arizona Secretary of State, there are legal limits placed on campaign donations to local candidates. For example, individuals or partnerships may contribute no more than $6,250 towards a candidate. Meanwhile, corporations, LLCs and unions are prohibited from making any campaign contributions at all.
On the other hand, Political Action Committees (PAC) may contribute $6,250, multicandidate packs $12,500 and political parties may contribute unlimited funds (although local candidates are restricted from accepting more than $10,000 in donations).
Also, there are no limits as to how much a candidate can contribute to their own campaign.
Campaign Finance Reports
When a candidate runs for office, they must file Campaign Finance Reports with the county recorder periodically throughout the election cycle. The reports track the money that an election committee raises, as well as the money that it spends.
Although contributors may make multiple donations, the running tally cannot exceed the legal limit. And when an individual contributes goods and services in lieu of cash, the value of "in-kind contributions" must also be reported.
How the candidate's finances compare
The most recent available campaign report covers a five-month period between January and May 2016, as well as cumulative totals to date. According to the report, Simmons' campaign has raised $33,092 compared with Pearsall's $10,274, with Simmons personally loaning his campaign a total of $4,747.
Aside from immediate family, some stand-out individual contributors in Simmons' campaign include retiree David Hess ($1,500), New Jersey attorney Daniel Bernstein ($1,000) and Justin Scott of HOAMCO ($500). Also, Healthcare Consultant Pamela Jones of Self-Tyger Healthcare Inc. donated $1,500 in cash as well as $457 of "in-kind" contributions (such as tickets and candy).
Non-immediate family members contributing significant amounts to Pearsall's campaign include retirees Joe and Bernadette Selna ($1,250) and Attorney Michael Mongini ($750). Also listed as a contributor is Yavapai County Appraiser Catherine Curtis ($100).
Public figures listed as donors to Simmons' campaign include Cottonwood Mayor Diane Joens ($50), County Supervisor Thomas Thurman ($25) and retired Director of Communications and Community Relations for Rainbow Acres Margie Beach ($20).
Meanwhile, Pearsall's campaign donations from Prescott Mayor Harry Oberg ($100) and Yavapai College District Governing Board Secretary Steve Irwin ($60).
The cost of running for public office Contributions are just part of Campaign Financial Reports. The cost of running for public office is also evident when looking at the numbers.
For example, the Simmons campaign has spent $20,530 so far in operating expenses, described in 15 pages of detail. Marketing expenses include $10,385 to Helken and Horn Advertising, Inc. and $2,019 to Cable One Advertising, to name just two.
On the other hand, Pearsall has kept her campaign operating expenses to one page, detailing how $2,821 has been spent so far.
According to the candidate's reports, Simmons has a $6,515 balance in his campaign war chest, with Pearsall at $7,254.
Tom Tracey is a reporter for the Verde Independent in Cottonwood.
Related Stories