Texas' LeMond nabs All-Around buckle at 'World's Oldest Rodeo'
By
Doug Cook
|
dougout_dc
Originally Published: July 4, 2016 11:50 p.m.
Photo Gallery
Prescott Frontier Days Rodeo 070416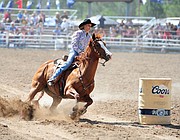 PRESCOTT – JoJo LeMond of Andrews, Texas, won a grand total of $2,715 in team roping and steer roping to claim the coveted All-Around buckle at the 2016 Prescott Frontier Days Rodeo on Monday, July 4, at the Rodeo Grounds.
It was the first All-Around title for LeMond at Frontier Days. He's currently ranked No. 6 in the Professional Rodeo Cowboys Association (PRCA) world standings for the All-Around with more than $32,000 in earnings on the season so far.
A four-time Wrangler National Finals Rodeo (NFR) qualifier in 2008-10 and 2015 for team roping, LeMond joined the PRCA in 2002.
In 2015, he bounced back nicely from an injury which had forced him to miss most of the 2014 season. Last season, LeMond placed in eight rounds of the NFR in Las Vegas in team roping, and he placed in four rounds at the Clem McSpadden National Finals Steer Roping in Mulvane, Kansas.
The total payout for this year's Frontier Days Rodeo, which conducted eight performances from June 28 through July 4, was a hefty $252,219.
What follows is a brief rundown of the rest of the winners in each of the primary pro-rodeo events at this year's rodeo.
BAREBACK RIDING
Tim O'Connell of Zwingle, Iowa, recorded an 86-point ride during the seventh performance on Sunday, July 3, edging out Casey Breuer of Mandan, North Dakota, for the bareback bronc riding buckle.
O'Connell, who claimed $5,788 in earnings here, has qualified for the NFR in each of the past two seasons (2014, 2015). He finished fourth in the NFR in 2015, only his third season as a card-carrying member of the PRCA. O'Connell won buckles at 12 different rodeos in 2015 and was a co-champion at four others.
In 2012, O'Connell was named PRCA Bareback Riding Permit Holder of the Year. In 2013, he won the PRCA Resistol Bareback Riding Rookie of the Year award.
BULL RIDING
Ednei Caminhas of Denton, Texas, tallied an impressive score of 83.5 points on a bull named Spanish Moss to capture the bull riding buckle.
Caminhas will receive a hefty sum of $6,796 for his strong ride.
Only two other bull riders came close to Caminhas, including runners-up Pistol Robinson of Coolidge, Texas, and Wyatt Edwards of Sulphar, Oklahoma. They each registered 77.5 rides on the same bull, named JAC.
SADDLE BRONC RIDING
Clay Elliott of Nanton, Alberta, Canada, ran away with the saddle bronc riding buckle here, tallying an 87-point ride on a horse named Happy Valley. He snared a hefty sum of $6,007 for his effort.
Elliott is an up-and-comer who joined the PRCA in 2014. He won buckles at two rodeos and was a runner-up at six others in 2015.
Rusty Wright of Milford Utah, placed second to Elliott here, registering an 82.5-point ride on Tami's Jammi's.
SINGLE STEER ROPING
Jess Tierney of Hermosa, South Dakota, took home the steer roping title at Frontier Days on Tuesday, June 28, claiming $1,726 in earnings.
Rocky Patterson of Pratt, Kansas, was a close second, nabbing a payday of $1,429.
In 2015, Tierney placed third in the world in the steer roping standings, winning buckles at six different rodeos. Tierney has been a pro since 2003.
STEER WRESTLING
Cutter Parsons of Marana would not be denied on Independence Day, easily recording the best steer-wrestling time of the afternoon with a 4.8-second takedown. Parsons won the buckle by finishing the aggregate with a total of 9.2 seconds. He had a 4.4-second time in the first go-around.
For Parsons, a steer wrestler and roper, it was his second buckle at Prescott Frontier Days Rodeo, which he has said is his favorite rodeo. Parsons was the All-Around champion here in 2007. On Monday, he picked up $2,872 in earnings for his efforts in the steer wrestling.
The 33-year-old Parsons, who lives near Tucson, has been a Professional Rodeo Cowboys Association (PRCA) contestant since 2002.
TEAM ROPING
Riley and Brady Minor of Ellensburg, Washington, each won a team-roping buckle for their 12.4-second aggregate time on two head. They were awarded $3,685 apiece for first place. Runners-up Colby Lovell of Madisonville, Texas, and Travis Graves of Jay, Oklahoma, lost by the slimmest of margins. They had a 12.5-second aggregate and claimed $3,205 apiece.
TIE-DOWN ROPING
Rhen Richard of Roosevelt, Utah, outlasted second-place finisher Matt Shiozawa of Chubbuck, Texas, for the Frontier Days buckle in tie-down roping, posting an aggregate time of 16.7 seconds on two head for a $3,584 payout.
Shiozawa recorded a total time of 17.7 seconds and took home $3,116 in earnings.
Richard is currently ranked seventh in the PRCA's All-Around world standings.
WOMEN'S BARREL RACING
Felina Hunter of Morristown, Arizona, posted a combined time of 35.08 seconds in two go-arounds to win the women's barrel racing buckle.
Hunter received a cash prize of $1,119. She was followed by second-place finisher Taylor Jacob of Carmine, Texas, who had an aggregate of 35.15 seconds and garnered $1,645.
More like this story
SUBMIT FEEDBACK
Click Below to: