Fireman (No)cart Races douse downtown Prescott (VIDEO)

By
Cindy Barks
|
Cindy_Barks
Originally Published: July 4, 2016 6:01 a.m.
PRESCOTT – Even without carts, the Hose Cart Races delivered in downtown Prescott on Sunday, July 3.
Long a tradition over the Fourth of July weekend, the races generally feature teams of firefighters pulling old-fashioned hose carts.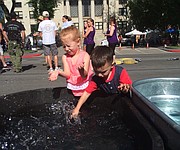 This year, however, organizer Jason Beyea said the carts were deemed unsafe and unusable for the races.
"We're trying to get new carts, but they weren't ready for this year," Beyea said. "So this year, the guys are hauling the hose themselves."
Despite the glitch, teams appeared to adjust well, sprinting down Cortez Street pulling the 50-foot lengths of hose behind them.
The idea was still the same: Haul the hoses into place, attach them to a fire hydrant down the block, aim the water at a cone set up in the distance and try to knock it down. The first to do so wins the heat.
Before the start of the event, retired Sedona firefighter Tim Armenta predicted that hauling the 30-pound lengths of hose would present a challenge to the teams, which are accustomed to using a cart. "I think there's going to be learning curve," he said.
Starting at about 9:30 a.m. Sunday, the races continued throughout the morning, and attracted hundreds of spectators along the route.
The action was split between the hose races taking place down the middle of Cortez Street, and the Bucket Brigade, which was running simultaneously at the side of the street.
Armenta explained that the bucket brigade harkens back to the days of fighting fires using buckets of water. "It's the old-school mentality of passing buckets," he said.
Sunday's brigade event used the same idea, featuring lines of participants filling their buckets and passing them down the line to a team member manning a barrel. The first team to fill its barrel won the heat.
Both events provided plenty of opportunity for the participants and spectators to get wet in the 80-plus-degree weather.
The Bucket Brigade was especially popular with the many children who were among the spectators. Along with splashing one another before the start of the competition, the kids also helped to fill the tanks and were on hand when firefighters dumped out the water.
Armenta, who lives in Prescott, said the event regularly brings together firefighters from around the state, as well as teams made up of firefighters' wives. "It's a definitely a pride thing," he said of the competition.
Afterward, Beyea announced the winners: Hose Cart men's, first place – Peoria Fire 493 Handjackers; Hose Cart women's, first place – Prescott Fire Violet Fems; Bucket Brigade men's, first place – Prescott National Forest Engine 930 Uncle SAMs; and Bucket Brigade Women's, first place – Prescott Fire Violet Fems.
More like this story
SUBMIT FEEDBACK
Click Below to:
This Week's Circulars
To view money-saving ads...