Optimists recognize outstanding youth
Special to Prescott Newspapers
Originally Published: July 1, 2016 6 a.m.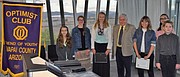 The Optimist Club of Yavapai County for the third year recognized outstanding youth from the quad-city area with its Youth Appreciation Evening on April 26 at the Prescott Valley Public Library. The end of the evening recognized two outstanding youth from the area, one middle school and one high school student as the Youths of the Year for 2016.
Prescott High School senior Emily Davis and Prescott Mile High Middle School eighth-grader Camryn McKelvey accepted their plaque and a $100 and $75 gift certificate from Club President Dr. Butch Miller. Camryn will receive her awards on May 26 at a school awards ceremony.
Teachers from schools in the quad-city area nominated 22 students for the awards. The Optimist Club invited nominations from the public and charter middle and high schools to invite up to three students for the award and received candidates from five high schools and four middle schools. The nominees are students at Bradshaw Mountain High School; Tri-City Preparatory High School; Arizona Agribusiness and Equine Center; Prescott High School, Chino Valley High School Bradshaw Mountain Middle School; Glassford Hills Middle School; Prescott Mile High Middle School; Heritage Middle School; and the Launch Pad Teen Center.
The Optimist Club strives to recognize students who otherwise may not be recognized for their positive impact on those around them. Youth Appreciation is intended to honor students who are good citizens, support other students, are active in their community, have demonstrated leadership and have overcome challenges.
Emily is a scholar, athlete and young lady that has faced difficulties and continues to keep a positive optimistic attitude. She maintains a 4.3 GPA in honors and AP classes, is actively involved with a number of clubs and organizations at school, and has received a number of awards for her academic performance including PHS Geometry and Advanced Algebra Math Student of the year in 2013 and 2014. Additionally, having demonstrated leadership, motivational, and athletic skills she was named the Blackhawks Soccer Team's "Most Valuable Player" in 2015. Emily has faced difficulty in her high school career living with a single working mom who is a breast cancer survivor. Through financial struggles and years of supporting her mom, she has stayed strong and remained an amazing student through it all. In addition to her academics, volunteerism and athletic abilities, she also works part time as a waitress to help pay for future college expenses. Her teacher states, "It has been an absolute pleasure to work with such a sincere, intelligent, creative, and mature young lady."
Camryn is also is an exceptional student, leader, athlete, musician, and citizen. Throughout her middle school career, she has maintained a 4.0 GPA in honors classes. Her teachers say she gives 110 percent in all her studies with no task being too difficult, time consuming or mundane. She always strives to do her best. She is a leader, chosen to be the NJHS President, she knows how to take command and motivate fellow members. She leads by example and is always in tune with the pulse of the group. Her sponsor says, "It is easy to feel confident and be successful when Camryn is in charge." She is an athlete and musician. She participated in cross-country, basketball, and track and has won the Presidential Fitness Award and Outstanding Athlete Award. She is in advanced band and this year Regional Honors Band and has won the Superior Duet Award twice. Camryn is a citizen. She performs 45 hours of community service each year, managed the boys' basketball team, given goodies to residents of the Pioneer Home, provided child care at church and worked with United Way. She has won Student of the Month for the past three years due to her efforts. Her teachers indicate that you would never think that Camryn faces any challenges, however the truth is her great grandparents have Alzheimer's disease and it has been a very difficult time for her and her family because of the stress it creates. Through this, Camryn has never used this as an excuse to let her grades to slide or give up her extracurricular activities or community service. The teacher who nominated her states, "Camryn is an optimist. She is the most loving, uplifting, supportive, hopeful, and genuine person I have ever met. My life and the lives of others are blessed by knowing her. She truly makes the world a better place."

Middle school nominees also included: Jeniveve Trueblood, Landon Durmez, and Emily Thompson of Heritage MS; Jacie Hambrick of BMMS; Nichole Babbit, Julianna Morales, Patrick Keegan of GHMS; and Mackenzie Shutte, nominated by the Launch Pad Teen Center also of PMHMS.
The high school nominees also included Cheyanne Wolfe, AAEC; Hannah Madler, Kaitlyn DeHerrera, and Joelle Bobinski, BMHS; Kendall Foster, Tabitha Sanders, and Zoe Dunn, CVHS; Addie Wells and Kyle Peach also from PHS; and Makaylee Call, Olin Marman, and Shelbyrae Myers, Tri-City Prep HS.
For more information about the Youth Appreciation Program, call Dr. Butch Miller at 928-277-6974. For more information about the Optimist Club, visit: www.optimistclubofyavapai.org.
More like this story
SUBMIT FEEDBACK
Click Below to: