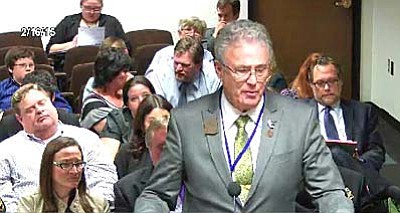 Originally Published: January 21, 2016 6 a.m.
PRESCOTT - Two weeks after state Rep. Noel Campbell filed his group-home bill at the Arizona State Legislature, the bill is scheduled for its first committee hearing.
Campbell, a Republican from Prescott, filed the bill on Jan. 11 - the first day of the 2016 legislative session. If successful, the bill would give counties, cities and towns more authority to regulate structured sober-living homes.
This week, Campbell reported that the bill, House Bill 2107, is tentatively scheduled to be heard by the Committee on County and Municipal Affairs on Monday, Jan. 25.
An online agenda for the committee states that the meeting is set to take place at 2 p.m. Monday, and would include discussion of four bills, including Campbell's "substance abuse recovery homes" bill. The meeting location is room HHR4 of the House of Representatives Building, 1700 West Washington, Phoenix.
The committee will take testimony from the public, Campbell said, and those wishing to speak should check in at the "request to speak" kiosk in front of the hearing room.
Campbell said the committee could opt to vote on the bill on Monday. Depending on the outcome, the bill could then go on to the House Rules Committee, after which it would go to the floor of the House for a vote - possibly within about two weeks. The bill would then go to the Senate for a vote as well.
After an earlier version of a group-home bill failed in the 2015 legislative session, Campbell began work this past summer on a new bill aimed to help communities such as Prescott get a better handle on the proliferation of sober-living homes.
That led to the state Legislature's Ad Hoc Committee on Drug Rehab Recovery Homes, which met four times in Phoenix in late 2015 to try to work out issues that arose among local governments, the state, and the group home industry.
In November 2015, the ad hoc committee recommended a bill that would give local governments more authority over group homes. The resulting bill would enable counties, cities, and towns to impose stricter regulations on structured sober-living homes, but would not require it.
Among the possible points of local authority: mandatory registration; fire safety requirements; square footage and location requirements of residents' bedrooms; supervision requirements; qualifications for house managers; a discharge plan for residents; and transportation of residents.
Although the original draft bill defined a structured sober-living home as a facility in which at least 25 percent of the residents are receiving outpatient behavioral health services for substance abuse or addiction, Campbell said an amendment is under consideration that would change the percentage to 35 percent.
The bill would exempt private residences in which a related family member is required to receive outpatient behavioral health services for substance abuse or addiction treatment as a condition of continuing to live in the family home.
The City of Prescott has dealt in recent years with a rapid rise in the number of group homes, many of which are not required to be licensed by the state. This past fall, the city reported that more than 160 known group homes existed within city limits. City officials have voiced support for Campbell's bill.
Follow Cindy Barks on Twitter @Cindy_Barks. Reach her at 928-445-3333 ext. 2034, or 928-642-0951.