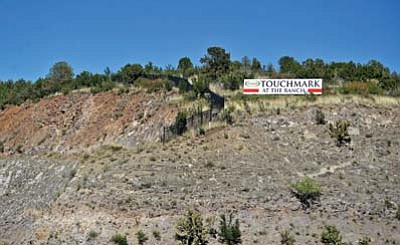 Originally Published: January 19, 2016 6:01 a.m.
PRESCOTT - A sign plan for the Touchmark at the Ranch senior-housing project won city approval this past week, despite questions that arose about two billboard-style signs that are currently in place.
The Prescott City Council approved a plan that includes seven signs on the site overlooking Wal-Mart, near the Highway 69/Lee Boulevard intersection.
Prescott Planning Manager George Worley led off the discussion on Tuesday, Jan. 12, by pointing out that just two of Touchmark's planned seven signs would be visible from off-site - a large sign at the top of the hill, and a ranch-style sign that would be built over the Lee Boulevard entrance into the Touchmark project.
That generated a question from Councilwoman Jean Wilcox about another Touchmark sign currently located at the Highway 69 and Walker Road intersection, near the Marriott Residence Inn.
Worley said that sign is considered an off-site "billboard," and is not a part of the company's comprehensive sign plan. Although the current city code does not allow for new billboard signs, Worley said, those that already exist may continue to have the face changed out.
Still, Wilcox said, "I can only support approving this request if all those large billboard signs are removed." She added that Touchmark would soon be building a "70-foot-high building, which, if it's built according to the design, will be a very nice-looking building. It will attract everyone's attention. They don't need marketing through a billboard."
Touchmark representative Tom Biel responded that the Highway 69/Walker Road billboard is a temporary sign, which would "automatically go away" after 18 months.
The other large sign at the top of the hill would be made to blend in more with the surroundings, Biel added, with darker LRV (light reflectance value), and a "monument sign" design, rather than a billboard-sign style.
Biel said the sign on the hill would help the company to get the word out about the housing project, which is currently under construction.
"It's a very large investment we're making here," he said. "In business, you don't want to be the best-kept secret, or you go out of business. We want the sign on the hill to look more like a monument sign, not a billboard. Our goal is to blend in and look professional."
Wilcox, who voted against the Touchmark project's building-height exception and development agreement in 2014, also suggested adding a "condition that Touchmark pay all of the permit and inspection fees that were waived as part of the development agreement that the former council approved."
Referring to $1 million in city budget cuts that became effective earlier this month, Wilcox maintained that the decision to waive about a half-million dollars of Touchmark's fees "put us in a situation where we have to close the library on Sundays, we're browning out fire stations, and we're raising everyone else's permit fees, because Touchmark got a half-million break."
She added: "That's just not right. In fact, I think it's corrupt, so I'm voting against it."
City officials maintained at the time that the Touchmark waivers were based on the economic benefit the project would bring to the community.
City Manager Craig McConnell added this past week that "in terms of a win-win, in terms of economic benefit ... It was not entirely permit fees being waived; it was effectively a partnership and credit for utility improvements that improved the performance of our utility system by looping."
Biel told the council the senior-housing project would employ about 180 people, with an annual payroll of $5 million to $7 million.
The council ultimately approved the sign plan 6-1, with Wilcox casting the only vote against the motion.
Follow Cindy Barks on Twitter @Cindy_Barks. Reach her at 928-642-0951.