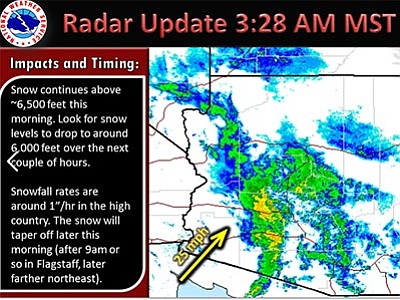 Originally Published: January 6, 2016 6:03 a.m.
UPDATE:
A Winter Storm Watch is in effect from Wednesday evening through Friday afternoon above 5,000 feet, according to the National Weather Service.
The Weather Service in Flagstaff has issued the storm watch, predicting snow will develop late Wednesday night, Jan. 6, and continue through Friday.
Total snow accumulations of 4 to 8 inches are possible above 5,000 feet, with 8 to 14 inches possible above 6,000 feet. Other impacts including snow packed roads and winter driving conditions.
The Weather Service says a winter storm watch means there is a potential for significant snow and or ice accumulations and strong winds. These conditions may impact travel. Continue to monitor the latest forecasts here at dCourier.com or for additional weather information visit www.weather.gov/flagstaff.
Original story, Jan. 4:
A series of storms that's expected to bring up to 14 inches of snow to Flagstaff this week may also deposit some of the white stuff in the Prescott area.
That was the word from the National Weather Service at Bellemont Sunday afternoon.
"The whole week is going to be wet," meteorologist David Vonderheide said.
On Monday, with a predicted high near 39 degrees F, precipitation in Prescott will likely take the form of showers. Monday evening, the rain could mix with snow - but should turn back to rain during the day Tuesday as the high climbs to 41, he said.
Through the week, as temperatures drop, the chance of snow increases. That means Prescott could end up with a couple of inches of snow by the end of the week, he said.
However, it's a little early to pin down an exact amount. Forecasters will have a better handle on totals by Monday or Tuesday.
"We see it coming," Vonderheide said, explaining that NWS meteorologists in Flagstaff spent much of Sunday talking with surrounding forecast offices - Tucson, Phoenix, Las Vegas and Albuquerque - so they could deliver a coordinated forecast.
The precipitation will come from three separate systems, all directly related to El Nino, he said. Each pulse of moisture will move in and drop that moisture in the form of rain or, in the higher elevations, snow. The snow level will drop throughout the week, leaving the potential for the ground in Prescott to be white by Friday.
But the higher elevations are expected to bear the brunt of snow accumulation. In Flagstaff, the precipitation could start out Monday as snowfall, with each successive pulse dropping more snow. By Thursday morning, Flagstaff could have 10 to 14 inches of snow, Vonderheide said.
A hazardous weather outlook posted on the NWS website for Yavapai, Apache, Coconino, northern Gila and Navajo counties calls for the first of several storms to move through northern and central Arizona starting Monday. Snow level is expected to range from 6,000 to 7,000 feet, with winter driving conditions in many mountain areas.
Periods of mountain snowfall and lower-elevation rain are expected for the remainder of the week, with snow levels dropping as low as 4,500 feet by Friday, the outlook states.
Worried about getting around on slick, snow-covered roads? The Prescott Police Department offers the following winter driving tips:
• Do not drive during ice or snow storms unless it is absolutely necessary.
• If you must drive, first clear the ice and snow from your vehicle. This includes the headlights and taillights, the windshield wipers and all of the windows. In addition, license plates must be visible, headlights should provide adequate illumination, and all lights should be visible to other motorists.
• Allow your defrosters time to work before driving so you can see.
• Turn on your headlights when you turn on your windshield wipers.
• Drive slowly. Even if your vehicle has good traction in ice and snow, other drivers will be traveling with caution.
• To prevent skids on snow and ice, brake early, carefully and gently. Apply your brakes in slow, steady strokes. Allow the wheels to keep turning. If they begin to lock up, decrease pressure on the brake pedal. As your vehicle decreases speed, you can also shift into a lower gear.
• When sleet, freezing rain or snow begin to fall, remember that bridges, ramps and overpasses will freeze first. Also know that slippery spots may remain after road workers have removed the snow.
Follow Arlene Hittle on Twitter @ahittle_dc. Reach her at 928-445-3333, ext. 2036, or 928-830-2928.
More like this story