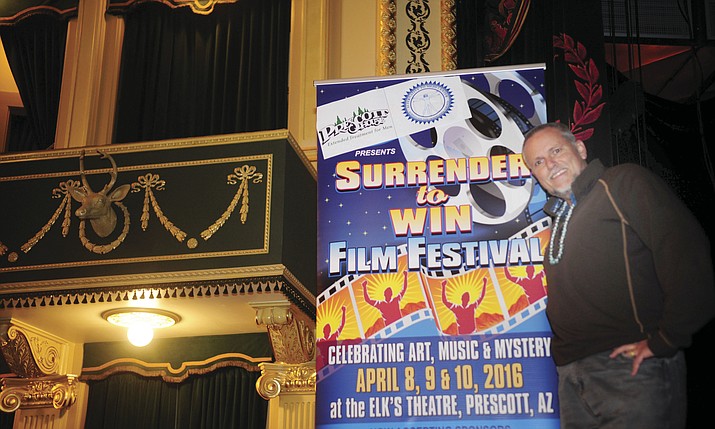 Photo by Les Stukenberg.
Originally Published: February 29, 2016 1:52 p.m.
What's showing:
"The Business of Recovery"
"The Anonymous People"
"Thanks for Sharing"
"Call Me Crazy"
"Girl on the Edge"
"Flight"
"The Lost Weekend"
The details:
When: April 8 through 10
Where: Elks Theatre,
117 E. Gurley St., Prescott.
TIckets:
Weekend passes are $49. Individual tickets are available at the Elks Theatre box office, or at www.prescottelkst...
More info: www.surrendertowi...
Editor's note: This is the first in a series of occasional Daily Courier articles focusing on the group home industry.
PRESCOTT — Greg Horvath doesn't mince words when talking about the recovery industry, and neither does his documentary movie, "The Business of Recovery."
The movie opens by pointing out that the recovery industry is "selling hope to people in crisis," and it goes on to document the perceived failings of the system, through interviews with addicts and their families as well as operators of recovery programs, large and small.
For 85 minutes, the riveting look at the recovery industry presents a basic premise: That the current standard of care isn't working, despite the billions of dollars that addicts and their families are pouring into the system.
In a telephone interview this past week, Horvath, the movie's producer, pointed out that the idea for the movie formed after he had worked in the industry for years, and had seen the failures firsthand.
Informational notes about the movie state that Horvath "observed the same suspect treatment practices over and over again with everything from kickbacks and referral fees to antiquated treatment administered by untrained staff."
Specifically, the movie takes a critical look at the 12-step approach, which it maintains is used by most recovery centers, but is actually effective for only a small percentage of people.
"This movie doesn't take a very flattering look at the recovery industry," Horvath said.
Noting that he has "a real disdain for sober-living homes in general," Horvath maintains, "It's not that they're poorly regulated; it's that they're totally not regulated at all."
Among the goals of "The Business of Recovery" is to build a grassroots community to make the industry more accountable, Horvath said.
To that end, he has been taking his movie into some of the nation's recovery hubs. A 2015 showing in Newport Beach, California – the "recovery capital of Southern Californian," according to Horvath – produced plenty of sparks, he said.
Now, the movie is set to show in Prescott as a centerpiece in the April "Surrender to Win Film Festival" at the downtown Elks Theatre.
Again – referring to Prescott's reputation as a major recovery center – Horvath said he expects controversy.
The festival will begin Friday, April 8, and will run through Sunday, April 10. In all, it will include nine films, and several shorts.
It also will include a panel discussion at 7:30 p.m. Friday, April 8, after the 6 p.m. Northern Arizona premiere showing of "The Business of Recovery." Horvath said he plans to be a part of the panel, and festival organizer Jeffrey Grubert said a number of local officials have also signed on.
Sandy Kenyon, an entertainment reporter and film critic from WABC-TV in New York City, will be the host of the event on Friday and Saturday.
For Grubert, the festival idea was "a natural" in Prescott.
After attending a town hall meeting at Prescott City Hall this past fall, at which a number of local residents expressed their frustrations with the local proliferation of group homes, he said he wanted to do something to continue the dialogue.
"The film festival is being established to meet people where they're at," Grubert said. "I want to invite people into the discussion."
Along with "The Business of Recovery," the film festival also will show other movies with a variety of themes. Among them:
• "The Anonymous People" – described as a feature documentary about the more than 23 million Americans living in long-term recovery from alcohol and other drug addictions.
• "Thanks for Sharing" – a 2012 film that deals with problems of sex addiction.
• "Call Me Crazy" – a 2013 film that links childhood trauma, addiction and mental illness.
• "Girl on the Edge" – a 2015 film about drug addiction and equine therapy.
• "Flight" – the 2012 film featuring Denzel Washington as a pilot fighting alcoholism.
• "The Lost Weekend" – a 1945 Best-Picture movie, starring Ray Milland, and focusing on chronic alcoholism.
Grubert said he hopes the film festival will promote understanding.
"The dream of the festival is – I think it would be amazing if the general public would understand addiction," Grubert said. "If they understood the toll addiction was taking, they might find good solutions for treatment."
Grubert suggests that Prescott's many issues with the recovery industry "might be because there is something about addiction we don't want to look at ourselves."
He added: "How about we get together and look at what really works?"
Grubert hopes the film festival will attract a varied audience, regardless of people's views of the recovery industry. "Even if they're angry, we want them there," he said. "My passion is education."
Grubert, who moved to Prescott this past July, works with Earthbase, which he described as a nonprofit that teaches wholeness and self-healing in a nature-based environment.
The film festival will take place at the Elks Theatre, 117 E. Gurley St., Prescott. A complete list of films, schedule, information, and tickets is available online at www.surrendertowinfilmfestival.com. Several ticket packages are available, with weekend passes priced at $49, which includes a pre-festival party. Individual tickets are available at the Elks Theatre box office, or online at www.prescottelkstheater.com.