Albino rattler safeguarded from almost certain death; getting comfy in her new Heritage Park home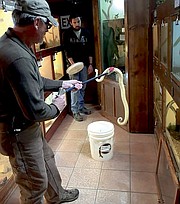 Now showing at the Heritage Park Zoological Sanctuary (HPZS): a rare, and strikingly attractive, albino diamondback rattlesnake.
An albino snake is rare in the wild or captivity because its white-yellowish color exposes it to predators and an early death, said Wayne Fischer, animal care manager in charge of reptiles.
"Being it's yellow, it would never make it in the wild. Up against plants or sand, it sticks out. Birds, roadrunners and such would eat it," Fischer said.
HPZS received the rattler from a private donor, a gentleman from California who had visited the Sanctuary and later moved to Prescott. Now that he had children, he was under pressure from his wife to find another home for his venomous snakes, Fischer said.
This snake was born in captivity and the previous owner was hopeful he could breed it, but that proved unsuccessful. HPZS does not breed its snakes, but accepted this one for display.
"She really is an incredibly rare specimen, one that you might never see anywhere else," said Alex Schopp, marketing and events coordinator. "And now that she's here, she needs a name."
HPZS is asking the public to submit possible monikers between now and April 30, which is Community Appreciation Day (Free Day). To enter, people must first purchase one of the stuffed snakes in the Gift Shop, at which time they can fill out an entry for the contest. On April 30, zoo personnel will randomly draw the new, permanent name for this snake. The winner will be recognized with signage at the Reptile House.
"We've already received a lot of entries and are excited to see what all everyone comes up with," Schopp said.
This rattler eats thawed, dead rodents and rabbits that the zoo orders from a supplier. Fischer said he keeps track of what the reptiles ingest or refuse. Some snakes can go seven months to a year without eating!
Gopher and California king snakes are not affected by rattlesnake venom. In addition to keeping the rodent populations down, they also eat rattlesnakes and are good snakes to have around.
Fischer knows all about fangs and venom and snakebites. Adult rattlesnakes have between one and four fangs and can control the amount of venom with each bite. A baby snake, on the other hand, will deliver all its venom, making it more deadly than adult rattlers.
If bitten, a person could experience no symptoms - a "dry bite" - or it could be a life-threatening incident that could lead to lifelong paralysis or death.
"The venom causes a breakdown of the body from within. This makes it easier for the snake to digest," Fischer said, adding the venom must be injected into the bloodstream to be poisonous; drinking the venom is safe.
Diamondbacks are the most common and abundant rattlesnake in Arizona, and thus, responsible for the most bites. He said 80 percent of bites occur below the knee, and 80 percent of snakebite victims are intoxicated males between the ages of 18-25.
"We are privileged to have this albino diamondback. Even in captivity, they are very rare," Fischer said.
For more information on Heritage Park Zoological Sanctuary, visit its website at heritageparkzoo.org or call 928-778-4242.
Snake facts
• Western diamondbacks can live more than 20 years.
• Dusty gray-brown blotches can be hexagonal or diamond in shape. Even albinos have these markings.
• There are 32 known species, all with a triangular head and jointed rattles on their tails.
• The mortality rate on those bitten with no treatment is between 10-20 percent.
• They are poor climbers.
• They hunt in the early morning or at night.
• Female rattlesnakes have an average of a dozen baby snakes hatched alive. The babies stay with the mother only a few hours, then find cover and hunt on their own.
• Baby snakes have no rattles; adults' rattles may break and fall off.
• Each year after hibernation, they shed their skins and grow a new rattle. However, in its first few years, they may molt three times each year, making the number of rattles-to-age unreliable.
• Considered pit vipers, they have two pits under their nostrils that detect heat and warm-blooded prey - even in complete darkness.
• A forked tongue can "smell" the air.
• They have no outer ears but can sense sound and vibrations through their bodies.
• Their eyes can detect movement and objects 40 feet away.
Information retrieved from Wikipedia and DesertUSA websites.
SUBMIT FEEDBACK
Click Below to: