Prescott residents provide feedback on recent Arizona Town Hall conference

By
Max Efrein
|
mefrein
Originally Published: February 27, 2016 4:16 p.m.
Arizona Town Hall participants recently reviewed recommendations to preserve and assure water supplies in the state's communities. Among them were providing adequate funding, receiving state help and reforming ineffective legal procedures.
Arizona Town Hall (ATH), an independent nonprofit membership organization, titled its 107th meeting this past November "Keeping Arizona's Glass Full." This was the sixth time the nonprofit has addressed water in its 54-year history.
To share the results of its conferences, ATH collaborates with communities throughout the state to hold smaller, more focused discussions.
The review held at Embry-Riddle Aeronautical University's campus in Prescott on Wednesday, Feb. 10, featured three speakers and allowed participants to voice their opinions on what aspects of water in Arizona they believe must be prioritized.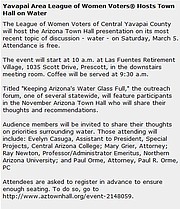 Recommendations
One is to fund water supply development.
Ideally, all areas of Arizona would have a 100-year assured water supply, according to recommendations from the Arizona Department of Water Resources. This is not the case for most of the areas outside the state's five Active Management Areas (Prescott being one of them).
Therefore, statewide water advocacy groups have been working on setting up a means for those areas to achieve this status.
They've had moderate success, passing two bills outlining what these areas need to do, but there's one thing missing: money.
"There's a funding bill that's been sitting with all of the structure around it, it's managed by the Water Infrastructure Finance Authority of Arizona, but it was never funded," said Water Resources Manager for the Town of Prescott Valley, John Munderloh, who spoke at the review session.
A small amount recently went into the bill, about $1 million, but the estimated amount needed to reach statewide 100-year assured water supply is $1 to $2 billion.
Another recommendation that was given a large amount of attention during the meeting is funding the Arizona Department of Water Resources (ADWR), the state's lead agency in water supply matters.
During the recent economic downturn, ADWR's funding was slashed nearly in half, resulting in the loss of some 40 percent of its staff.
"It is urged that you contact legislators to support additional funding so that ADWR can work to assure that all Arizona communities have water supplies and resources," said Ray Newton, a Prescott resident who attended the 107th Arizona Town Hall in Phoenix and spoke at the review session in Prescott.
Among several other recommendations, such as educating the public - especially the youth - on how significant these issues are and increasing water conservation efforts, one that also stood out is legal reform.
This is specifically in reference to what is called the Arizona General Stream Adjudication. It's intended to determine the extent and priority of all water rights in an entire river system.
The adjudication is in its 42nd year.
"I spent about a decade working on adjudication issues," Munderloh said. "We used to call it the water lawyer self-employment act. It worked really well for that. There are multiple generations of water lawyers who have made their living off of just this."
Within that 42 years, however, adjudication has determined zero water rights.
What is has accomplished is scaring people enough to settle some of the large claims made over the decades, particularly those concerning American Indian water rights. About half of the twenty-two sovereign tribes in the state have determined what their water rights are, which is significant considering they are the most senior water users and have the largest plains.
On the other hand, when it comes to conducting general stream adjudication for non-federal users, Munderloh believes the process is sorely abused and wastes much too much money that could be put toward more significant water issues.
"I don't think it's ever going to work," Munderloh. "There's too many differences from basin to basin."
One closing message made by each speaker was perhaps best said by the last, Andy Groseta.
"We need to be proactive, we need to be engaged, you need to contact your state senators, your state representatives... because if you're not sitting at the table, you're on the menu," said Groseta, rancher/owner of Groseta Ranches in the Verde Valley.
To see the full list of final recommendations from the "Keeping Arizona's Water Glass Full," go to ATH's website: http://www.aztownhall.org/.
More like this story
SUBMIT FEEDBACK
Click Below to:
This Week's Circulars
To view money-saving ads...