Man arrested for DUI after Chino Valley quad rollover injures him, children
Originally Published: February 26, 2016 6:25 p.m.
Updated as of Tuesday, March 1, 2016 6 AM
Update Monday, Feb. 29
Travis Ely was released from the Phoenix hospital on Saturday the 27th and was re-arrested by Chino Valley Police and booked into Camp Verde Jail, according to CVPD spokesman Lt. Vince Schaan.
Ely was charged with two counts of aggravated DUI, two counts of endangerment,leaving the scene of an injury accident and two counts of aggravated assault for the injuries to the two minor children.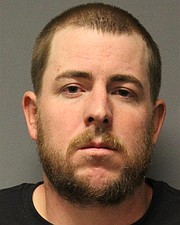 Updated Saturday, Feb. 27 at 2:30 p.m.
A Chino Valley man was arrested for driving under the influence after a quad rollover accident injured him and two juveniles.
On Feb. 26 at approx. 6:25p.m., Chino Valley Police responded to a report of a single vehicle rollover collision in the area of Road 2 North and Ken Drive in Chino Valley.
Responders found that a quad had rolled over with an adult male and two juveniles on it.
Information provided by a witness indicates the adult male driver became confrontational with him when he tried to help them. The witness reported he had to pull the quad off the adult and children and that all had obvious injuries. The witness reported an adult female ran over to the scene, cursed at the male subject and took the kids to a residence. The male subject tried to get the quad started and then drove it to the residence as the initial officer arrived on scene.
Officers located the adult male and quad at the nearby residence. The male subject was contacted by officers and had obvious injuries. Officers observed multiple signs of impairment while speaking with the male subject, identified as 27-year-old Chino Valley resident Travis Ely.
Officers tried to locate the children involved but Ely denied any children were involved or that any children were injured. Another officer found an adult female who told them children were injured. The two children were taken by Lifeline Ambulance to Yavapai Regional Medical Center for treatment. The names and exact ages of the children won't be released but both were under 10 years of age.
Ely was arrested for DUI, after he refused medical treatment by Chino Valley Fire Department and Lifeline Ambulance.
Subsequent conversations with Ely revealed he was the operator of the quad and the two children were in fact on the quad at the time of the roll over.
Ely continued to exhibit signs of injury and, although he refused initial treatment, Chino Valley Police requested Chino Valley Fire Department respond to re-evaluate him. Ely was re-evaluated and it was decided he would be flown to John C. Lincoln Hospital in Phoenix for continued evaluation and treatment.
Ely was released from police custody so he could obtain needed medical care.
The two children were later released from Yavapai Regional Medical Center after they were treated for their injuries.
At the time of this report, Ely is still at the Phoenix hospital.
Chino Valley Police would like to thank the witnesses in this incident for their quick reaction and response to help those involved in this incident.
Original report:Emergency crews responded to an ATV accident at Road 2 North and Ken Drive in Chino Valley late Friday afternoon. There were multiple injuries reported. Check back at dcourier.com for more details when the police report is made available.
More like this story
SUBMIT FEEDBACK
Click Below to:
This Week's Circulars
To view money-saving ads...