Joe Howard - Special to the Courier
Originally Published: February 22, 2016 10:17 a.m.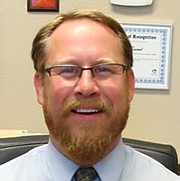 It is a tremendous honor to write the first column of what will hopefully become many updates from educational leaders in the Prescott area. I am very grateful to the Prescott Daily Courier for the opportunity to heighten partnerships between public schools and our community. Our schools are the product of our communities.
For this first column, I would like to update our community, and share "the state" of our Prescott Unified Schools. Many things have happened this year:
• Our district restructured and closed two schools.
• We physically moved over 100 teachers to a different school site.
• PUSD had an extremely successful transition for thousands of kids. We essentially created new schools including a fifth-sixth all-district school at Granite Mountain, and a seventh-eighth all-district middle school at Mile high. These transitions went extremely well and we found many ways to capitalize on the change. Students are thriving with the addition of many new offerings that came as additional support within the district consolidation.
• District voters approved both a bond and override in November.
PUSD has always focused on a continued improvement model where we work with our community, study data and best practices to find ways to innovate and improve our educational model every day. Our motto is "Every Child Every Day" because in the tradition of public schools, we take each and every student from where we meet them, and move them as far as possible within their time in our schools. With that in mind, we are focusing on the following current issues:
Our board is looking at best options for our unoccupied buildings - Washington, Miller Valley, Dexter and the District Office. We held a Governing Board meeting on Jan. 12 to discuss these options and to hear from the community regarding the different possibilities for these properties. We are currently working on appraisals before moving forward to consider leasing and selling options. Call us if you are interested!
We are creating a 10-year strategic plan with the help of our community. We are meeting with all of our staff at their locations, as well as with local service clubs, and holding community forums for public input. We held our first forum on Feb. 18, and will offer another on March 22 at the Prescott High School Library at 5:30 p.m. Please spread the word and let us know if we can visit your club or organization to gather your input. We also urge any community member to weigh in on our strategic plan goal areas by filling out a survey on the front page of our website at www.prescottschools.com. The Governing Board has outlined the strategic plan goal areas as follows:
• Student Achievement
• Enrollment
• Culture
• Communication and Stakeholder Relationships
• Resource Accountability
We are watching the legislative session closely.
Arizona is still 49th in funding, even if we have a successful May 17 election for the state to pay schools back with state land trust monies (Proposition 123.)
The possibility of the legislative move to "current year funding" would be a double-hit on PUSD's budget cuts, essentially wiping out any inflation lawsuit settlement efforts.
PUSD will still have to reduce budget significantly this spring due to continued enrollment loss (we are in our eighth year of substantial budget reduction due to economy and state subsidizing of charter schools in the area.)
The good news is that projections show the enrollment loss improving greatly next year. The economy in our area is improving, and families are having a better chance at jobs and affordable housing.
Thanks to Prescott voters, even with budget cuts, our staff will get a raise due to the passed override.
Thanks to the Prescott voters, essential building needs will be met due to a successful bond.
We have formed a bond/override oversight committee to assist in overseeing how the money is spent.
Most importantly, our students are thriving with success in academics, arts, athletics and more!
From a personal standpoint, as I reflect on my first year as superintendent, my 13th year in PUSD, my 20th year as an educator in the area, and my 31st year living in this amazing community, I must say that I am honored and blessed to work for an organization that has been serving the Prescott area for 147 years. PUSD continues to be a community school district producing extremely successful students. If you want some evidence of that, run a search on the Prescott Courier website. You will see that our students have found every way to be successful within our community and far, far beyond.

Thanks to all of our community members for investing in the future!
Joe Howard Prescott Unified School District Superintendent
More like this story
SUBMIT FEEDBACK
Click Below to:
This Week's Circulars
To view money-saving ads...