Share the Love event benefits Launch Pad Teen Center
Originally Published: February 22, 2016 11:16 a.m.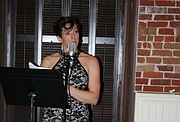 The Launch Pad Teen Center held its third annual Share the Love benefit on the third floor of the 'Tis Art Center and Gallery on Saturday, Feb. 13. Executive Director Courtney Osterfelt spoke, as did Olin Marman and Victoria Pomeroy, two members of The Launch Pad's Teen Leadership Board.
Osterfelt started off by sharing where contributions to The Launch Pad have gone. These include the purchase of a van to relieve challenges teens face with transportation to The Launch Pad, updating computers in order to offer workshops, the center working with some of the local schools to conduct a mock vote in order to educate teens about civic engagement and Prescott's first ever youth advocacy ceremony and much more.
"In three years, we have grown so much," Osterfelt said. "People say that three years is that make it or break it point for any business or nonprofit and as you can see tonight, we have most certainly made it."
The biggest indicator of The Launch Pad's success as an organization is what is heard from teens and parents, Osterfelt said. She shared the story of a teen who joined the program after his father made him come due to feeling like he needed to get off his computer after two years of online school and get some peer to peer time, Osterfelt said. After four months, an email came stating that the teen enjoys going to The Launch Pad and has dramatically changed in the way he interacts with people, causing him to ask to go to a physical school, Osterfelt said. This teen was previously pulled out of sixth grade because of constant bullying toward him.

The Launch Pad started and focused a lot on how it would be a place for at-risk teens, Osterfelt said. While that is one of the many impacts the organization has had, over the last three years it has been found to be a place where teens who struggle with fitting in make their first true friend, she said.
"We have also learned that Launch Pad is a place where teens who typically do not get recognized in mainstream ways through athletics or student council … end up joining our team leadership board where they learn amazing skills like how to run a nonprofit business, how to run a budget, where they are voting members of our board of directors and they lead us, the adults, in making critical decisions about the future of The Launch Pad," Osterfelt said.
Some of The Launch Pad's teens are graduating high school, Osterfelt said. One of them is Marman, who was awarded a total of $180,000 in scholarships. The most prominent was the Baird Scholarship from the University of Arizona, based on the premise of service, Marman said.
While there is an academic component to the scholarship, the service aspect to it was more meaningful, Marman said.
"My freshman year, I couldn't tell you what service was. I was just some naïve kid living his life, doing his thing until I went to The Launch Pad," he said. "At that point, it was the first time in my life where I'd been exposed to things outside of my realm. I met so many new people and managed to include myself in so many new cultures that I was just lost in the best possible way."
With the knowledge of community gained from The Launch Pad, there came the realization that he can do things to make the community better, Marman said. He considers himself a better person and owes it to The Launch Pad.
Pomeroy, who was one of the founding members of The Launch Pad, also spoke, looking back on the first get-together four years ago at the library for a meeting.
"At the time, I didn't know how special that moment would become, how fondly I would look back so many years later and see the beginning of it all … be amazed at how far we've come," Pomeroy said. "It was my freshman year of high school and I'm continuously astounded at how far we've come in such a short amount of time."
She also mentioned her own life, noting that when she came to Prescott five years ago as a socially awkward unhappy and isolated 13-year-old, she was looking for a place to fit in and make friends. However, there was disappointment in the available opportunities, Pomeroy said. But when she started high school at Northpoint Expeditionary Learning Academy, Pomeroy found herself in the meeting mentioned above.
Through The Launch Pad, there was freedom, purpose and support during the difficult times in life, Pomeroy said. It brought joy and amazement as well as opportunities that brought about the desire to share and give hope to others who were struggling.
"Through The Launch Pad, I found a new strength because the people are so amazing," Pomeroy said. "Last year, I won Female Youth Leader of the Year through Prescott Area Leadership … That honestly would never have happened without The Launch Pad."
Pomeroy will be attending Northern Arizona University with the Lumberjack Scholarship. It's an academic-based scholarship that offers full tuition for four years, she said.
However, Pomeroy stated that it being her last year at Northpoint and with The Launch Pad she has been worried since summer. She didn't want to stop being a constant influence in a program that she helped see through infancy.
"I didn't want to leave that behind, I was worried about the legacy I was leaving behind," she said. "I didn't want to see something I was so proud of, something so special to me, fall apart while I was gone. I didn't want to come back and see it different in a negative way."
Pomeroy asked those in attendance to carry on her legacy and help The Launch Pad continue on for future teens.
Multiple people came forward with donations ranging from $50 to $1,000.
More like this story
SUBMIT FEEDBACK
Click Below to: