Hope & Honor: 'Not a good place to be homeless in'

By
Nanci Hutson
|
HutsonNanci
Originally Published: February 7, 2016 12:15 a.m.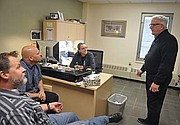 PRESCOTT - Ed Shier is a key advocate for homeless veterans, and he doesn't mince words about the realities.
"This is not a good community to be homeless in," states Shier, manager of the Northern Arizona Veteran Affairs Health Care System's $3 million homeless outreach program.
In truth, Shier said, there are veterans "we just can't help," either because of their own actions and life choices - sex offenders and those with violence-related felonies on their records - or limited resources in the community.
"If I have something today, I might be able to help you. But if you don't show up, or come another day, I might not be able to guarantee it will be available," Shier said. "There is just not enough money or resources available," he said.
That is not to say there are no services. Each and every day Shier and his community colleagues are seeking creative ways to stretch dollars, and champion for more dollars to create additional housing opportunities, the key to ending homelessness everywhere. A number of organizations work to provide emergency shelter, meals, clothing, rides to appointments, even repairs to low-income housing that might enable an individual, or family, to stay somewhere that might otherwise become uninhabitable.
"For each veteran that comes to our doorstep, we try and help them find a solution," said U.S. VETS Initiative Operations Manager Skye Biasetti of her agency that works to lead veterans who have hit snags in their life out of homelessness. "They're not homeless because they're perfect ... They are there due to some life choice, or circumstances, but we can help them to make better life choices."
U.S. VETS operates the city's only transitional housing program, a 56-bed downtown complex where veterans can live for up to two years. The VA provides per diem grant funding to assist with those costs.
The transitional housing program offers tailored case management, employment skills training and job placement assistance for each of their clients, along with art and culinary arts classes and relapse prevention groups. Staff also collaborate with the VA and other veteran-service agencies for additional services, including mental health counseling and medical services.
U.S. VETS leases 21 scattered-site apartments for those who don't have the financial or life skill resources to sustain independent housing. These individuals are given case management support, as well as financial subsidies, so they can retain their independence. Some of the permanent supportive housing clients are graduates of the transitional program, but that is not a criterion of that program, Biasetti said.
On an annual basis, U.S. VETS provides housing opportunities for about 150 veterans. They provide assistance to another 500 throughout the year through their career counseling center and outreach efforts. Biasetti organizes the "Homeless Veteran Stand Down" project that last year provided one-stop service assistance to more than 250 homeless veterans.
Despite all the obstacles, Biasetti said her agency never loses sight of its commitment to "house every homeless veteran."
Though Prescott has no official point-of-entry for homeless men and women, the VA is for many homeless veterans a starting point for services.
For more than two decades, the VA has offered assistance to homeless veterans.
Over the last couple of years, the effort has expanded to a broader outreach called the Health Care for Homeless Program, a 30-member staff specifically assigned to work with homeless veterans on everything from mental health counseling and addiction treatment to job training and rental assistance.
Nationally, one of the VA's most touted programs to benefit homeless veterans is its partnership with the federal Department of Housing and Urban Development for a permanent supportive housing initiative, known as HUD-VASH, or subsidized housing with VA case management support.
Since 2008, the federal VA has distributed some 79,000 vouchers across the nation; 70 vouchers have made their way to Prescott.
Not enough, Shier emphasizes.
Another 30 to 50 such vouchers would make a "huge" difference in curbing veteran homelessness in western Yavapai County, he said.
Another long-standing VA program available to homeless or at-risk veterans, including those with addiction issues, is the 125-bed domiciliary; based on current staffing the facility's maximum is 85 clients. At this time, there is no waiting list.
Again, though, this program does not appeal to every eligible veteran, Shier said.
The stay is expected to last between 90 and 120 days, although it can be extended up to a year, Shier said. The challenge is that upon graduation the veterans are expected to move into independent housing; transitional housing such as that provided at U.S. Vets does not qualify, he said. Suitable housing options are not always available, and so it is not uncommon for these graduates to slip back into homelessness, Shier admits.
The VA has explored the possibility of converting some of its vacant buildings into either transitional or permanent housing, but Shier said the rehabilitation costs have proved so cost-prohibitive, $800,000 or more, that it is not now an option.
"We try and look at a problem, and fix it," Shier said. "And if we can't fix it within the VA system, we look to other community providers."
The VA's homeless outreach teams collaborate with other non-profits and veteran-focused organizations to provide services they do not, such as money for a temporary motel stay, rental deposits or furnishings and household items for someone moving into an apartment. A coalition of community providers are currently proposing to do a workshop with area landlords to encourage them to rent to their clientele.
Two of those providers are the Veterans Resource Center (VRC) and Catholic Charities. Both were awarded federal grants for what is called the Supportive Services for Veterans and Families (SSVF) program.
For three VRCs in northern Arizona, the grant award was $2 million. Catholic Charities was awarded about $1.18 million for western Yavapai and Coconino counties.
VRC Prescott Site Director Nick Wood said the SSVF's focus is to assist homeless, or at-risk, veterans with finding or maintaining affordable housing through on-going support services. The goal is to make this happen within a 90-day period. The average is 30 days, but has happened as quickly as within two weeks, Wood said.
To date, Wood said they have a 96 percent success rate, arranging housing last year for 234 people in Prescott, all of whom are living under 50 percent of the median income that for a single individual is $19,600.
Across their three offices, including Flagstaff and Bullhead City, the VRC provided housing for 500 individuals. Catholic Charities said last year they were able to assist 265 veteran households representing 485 individuals.
Wood emphasized this is not a rent subsidy program. Rather, it is a program that will cover security deposits, pay utility deposits and fees, and at times cover rental payments for up to nine months. Simultaneously, case managers work with clients so they make payments once they are no longer clients, he said.
In some cases, Wood said, a veteran might not require any financial assistance, but just support to help budget and set financial priorities.
The Disabled American Veterans chapter provides funding for a three-bedroom, affordable rent complex that now houses three veterans. The Disabled American Veterans' thrift store operation also provides clothing, furniture and households to veterans, and the store employs seven such veterans.
In the next year, the DAV hopes to open a drop-in center, a place where they can shower, wash clothes, eat a meal and make connections to appropriate services, officials said. In the meantime, the VA's outreach program offers a small space where veterans are welcome to come and use a computer, do their laundry and connect with a social worker if they so choose.
The mantra of all of these organizations is to honor each veteran's service by assuring they get the hand up they deserve to be thriving, productive members of the community.
"It really is our agency philosophy to take care of the people who come to our door," Wood concluded.
Follow Nanci Hutson on Twitter @HutsonNanci. Reach her at 928-445-3333 ext. 2041 or 928-642-6809.
Related Stories
More like this story
SUBMIT FEEDBACK
Click Below to: