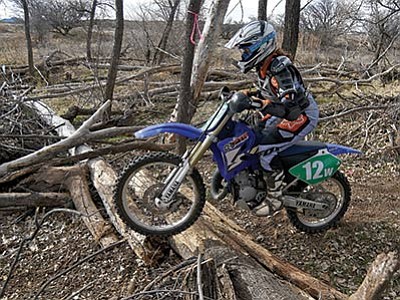 Originally Published: February 5, 2016 6 a.m.
KIRKLAND - On a spacious, private, wooded ranch here off Kirkland Valley Road on Feb. 20, the Prescott Trail Riders (PTR) off-road motorbike club will play host to the Kirkland Creek Hare Scrambles, the group's first-ever Arizona Motorcycle Riders Association (AMRA) pro race.
At 9 a.m. that Saturday, contestants will begin racing on a course that features elements of single-track and sandy washes (see race schedule).
The so-called Big Bike races are broken down into four competitive divisions, including 'AA' pro, 'A' expert and 'B' intermediate, whose riders complete a 13-mile loop; and the 'C' beginner, whose riders traverse a 10-mile loop. In addition, a group of Minis, or youth riders ages 4-14, will complete a 3-mile course.
Riders in each class, whether by bike size or age group, will line up in rows with a dead-engine start. Every 30 seconds, a row of riders will ignite their engines and take off on the race.
Rock Stars Motorcycle Club in Mesa helped PTR design its course at the ranch in Kirkland. In January, Rock Stars representatives and PTR members met to determine scoring methods and where trail markers and arrows should go to guide racers.
In the three days leading up to the race, volunteers will finish setting up the course.
"The track is very technical, but it's really exciting because it's going to be a brand-new track," PTR rider Karen Nielsen said. "So everybody's going to want to come and race, and we're going to have a huge turnout. It's going to be great for Prescott Trail Riders."
The ranch is divided into five sections for the race. For example, one section consists of a salt cedar tree-lined, sandy wash that riders will traverse. Another section is more technical, as it showcases jumps over fallen logs within a large stand of cottonwood trees.
PTR members will work the course on race day, but they won't race, per AMRA rules.
The Kirkland Creek Hare Scrambles is the sixth of seven regular-season races in the MotoCity Off-Road Championship Series and Fly Racing Off-Road Mini Series. Organizers say hundreds of people are expected to attend the Scrambles.
The pre-entry fee for each Big-Bike racer is $55, while Mini-Bike racers pay $35 apiece. The cash-only post-entry fee on the day of the event will cost $65 per Big Bike and $35 per Mini.
Follow Doug Cook on Twitter @dougout_dc. Reach him at 928-445-3333 ext. 2039, or 928-642-7865.