Originally Published: December 31, 2016 6 a.m.
A story making big news this week is about a Mexican man accused of raping a girl on a Kansas bus.
Sadly, the rape is just part of the story. His record is what is gaining the most attention.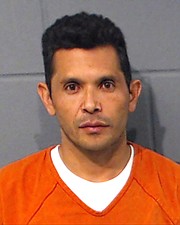 He has been deported 10 times and removed from the country nine times on top of that since 2003, according to records obtained by The Associated Press.
This ridiculous saga of kicking a man out of the country 19 times, only to have him return again – and harm someone - is the perfect example of how our immigration system is broken.
The accused man has family in the United States and he found a way to get back to them.
David Trevino, a Kansas immigration attorney, made a very valid comment, "(President-elect Donald Trump) can build a wall 100 feet high and 50 feet deep, but it is not going to keep family members separated. So if someone is deported and they have family members here ... they will find a way back — whether it is through the air, under a wall, through the coast of the United States."
A wall is not the answer. Reformed immigration law is.
The man in question had some of his run-ins with the law here in Arizona.
According to the AP report, "Court filings show Tomas Martinez-Maldonado has two misdemeanor convictions for entering without legal permission in cases prosecuted in 2013 and 2015 in U.S. District Court of Arizona, where he was sentenced to serve 60 days and 165 days respectively.
"Cosme Lopez, spokesman for the U.S. attorney's office for the District of Arizona, declined comment on why prosecutors twice dismissed felony re-entry after deportation charges against Martinez-Maldonado in 2013 and 2015 in exchange for guilty pleas on misdemeanor entry charges."
No one knows why or how this happened … or won't comment on it.
Instead of wasting rhetoric and money on a wall that will not stop illegal immigration, let's use our energy and money to reform our immigration system and get everyone on the same page.
More like this story
SUBMIT FEEDBACK
Click Below to:
This Week's Circulars
To view money-saving ads...