College Hockey — UConn 4, #18 St. Cloud State 3 Huskies upset No. 18-ranked St. Cloud State
By
Doug Cook
|
dougout_dc
Originally Published: December 31, 2016 5:50 a.m.
PRESCOTT VALLEY — The University of Connecticut notched its fourth victory over an NCAA Division I Top 20-ranked squad on Friday night, Dec. 30, hanging on late to defeat No. 18 St. Cloud State (Minnesota) 4-3 at PV Event Center.
With the win, UConn moved above .500 with a 7-6-6 overall record. St. Cloud State dropped to 8-8-1.
Photo Gallery
UConn vs St Cloud State 123016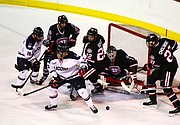 Both UConn and St. Cloud were missing key components of their teams, as they were competing at the International Ice Hockey Federation (IIHF) Junior Worlds in Toronto. For St. Cloud, it was head coach Bob Motzko and top defenseman Jack Ahcan. For UConn, it was starting goalie Adam Huska and leading scorer Tage Thompson.
UConn appeared to have the edge on St. Cloud despite their absences. Goalie Rob Nichols started in place of Huska and sparkled, tallying 33 saves in 60 minutes. And junior forward Spencer Naas scored two goals, including the go-ahead tally that snapped a 2-2 tie with 18:40 to go in the second period.
With 5:15 left in regulation, UConn sophomore forward Maxim Letunov added an insurance goal to make it 4-2. Coming off a penalty kill, Letunov stole the puck from St. Cloud in the neutral zone and raced unobstructed to the goal.
But with 52 seconds remaining, St. Cloud scored on the power play. Down 4-3 in the final seconds, Nichols caught a hot shot from St. Cloud's Mikey Eyssimont to preserve the victory.
In the second period, St. Cloud trailed 2-0 with 9:22 left. St. Cloud ended the shutout when Eyssimont drilled one home on assists from Patrick Newell and Blake Winiecki. Then, with 2:24 remaining, Winiecki netted the equalizer on a crossing shot from Newell.
UConn claimed a 2-0 lead less than a minute into the second when sophomore defenseman Miles Gendron scored on a breakaway on a nice feed from senior forward Evan Richardson.
UConn got on the board early in the first period as well, claiming a 1-0 edge with 15:40 left. Naas tallied on an assist from sophomore forward Max Kalter deep in St. Cloud's zone, as the puck deflected off goalie Jeff Smith and into the net.
More like this story
SUBMIT FEEDBACK
Click Below to:
This Week's Circulars
To view money-saving ads...