College Hockey — Brown 9, Arizona State 8 (2OT) Brown edges ASU in 2OT, advances to final
By
Doug Cook
|
dougout_dc
Originally Published: December 31, 2016 5:55 a.m.
PRESCOTT VALLEY — A wild second-period comeback by Arizona State wasn't enough to help the Sun Devils punch a ticket into the championship game of the second annual Desert Hockey Classic on Friday night, Dec. 30.
Photo Gallery
ASU vs Brown 123016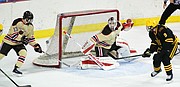 Trailing Brown University 4-2 four minutes into the second period, ASU scored four goals in the frame, including a pair in the final 19 seconds, but later lost to Brown University, 9-8, in sudden-death double overtime. According to NCAA rules, however, the game is technically recorded as a tie. ASU nearly overcame Brown forward Charlie Corcoran's hat trick of four goals in the opening round of the Classic at Prescott Valley Event Center (PVEC).
"[There were] a couple of lucky bounces, but I play with great players, and they make it really easy for me," Corcoran said. "It worked out. It was a good win."
After a scoreless first OT, Max Willman scored in a 3-on-3 sudden-death format in the second overtime as the Bears advanced.
"That game was absolutely not on our goaltender [Robert Levin]," said Sun Devils coach Greg Power, referring to the nine goals allowed. "[Charlie Corcoran's] performance was really impressive. If you score four goals in a game, that's one to remember for that kid."
Tied at 7-7 with 1:14 left in regulation, ASU's Jakob Stridsberg scored on an assist from Anthony Croston. But playing with an empty net, Brown tallied with 15 seconds left, as Sam Lafferty knocked in the equalizer to send it to OT, tied 8-8.
"It was one of those nights where everything seemed to go in," Brown coach Brendan Whittet said. "I know from our perspective, our goaltenders would like to have a few of those back. But the positive is, we found a way to battle back."
Arizona State's Louie Rowe put the Devils ahead 7-6 with 5:22 seconds left in the fourth on an assist from Dylan Hollman. But Brown's Brent Beaudoin slapped in the equalizer with less than 4 minutes to go.
The Sun Devils lost their 6-4 lead midway through the third period when Willman scored on a Corcoran assist (9:38 left). Corcoran tallied his fourth goal with 9:08 left to tie it at 6-6.
ASU had six different goal scorers through the first two periods, including Robbie Baillargeon, Stridsberg, Wade Murphy, Dylan Hollman, Joey Raats and Louie Rowe. Murphy and Raats' goals came on the power play.
The Sun Devils will face St. Cloud State in a consolation game at 7 p.m. today, Dec. 31.
More like this story
SUBMIT FEEDBACK
Click Below to: