New business profile: The Skate Stop

By
Max Efrein
|
mefrein
Originally Published: December 25, 2016 5:55 a.m.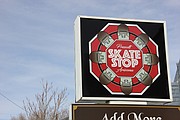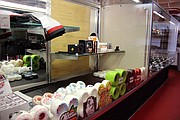 Essentials
What: The Skate Stop
Where: 617 Miller Valley Road, Prescott
Website: TheSkateStop.com
Contact: 928-533-1885
Skateboarding was once an up and coming activity in Prescott.

In 2005, the Mike Fann Community Skate Park opened at the corner of East Willis Street and South Arizona Avenue.
That same year, a skate shop called Calavera Board Supply opened its doors in the Prescott Gateway Mall.
Calavera built a following and even sponsored some local skaters to represent the brand in competitions.
The shop stayed in the game for a while, moving locations a couple times, before closing in about 2013. A couple other skate shops were opened by entrepreneurs trying to fill the void in the following years, but none could quite make it as a business.
This led to the city not having a skateboarding shop throughout most of 2016, which local skateboarder Nicholas Dennis said clearly affected the skateboarding community.
"The scene has kind of died a little bit," Dennis said.
Hoping to revive the sport in Prescott, Dennis and his friend Matt Joannes opened The Skate Stop, a one-stop-shop skateboarding store, on Sunday, Dec. 11.

"Ever since we've opened I've already seen a huge improvement," Dennis said.
The shop offers decks, trucks, wheels and accessories, including locally designed apparel.
Joannes, a local artist, tattooist and skater, started rebuilding the skate culture in Prescott last year by organizing a free skate competition sponsored by his small business, King Pearl Clothing. He intends to host the competition again this year around June.
"We're just trying to make a scene happen," Joannes said.
"We're not basing it off of profit," Dennis added. "We're basing it more off of just getting people out on skateboards."
Vincent McLaughlin wandered into The Skate Stop for the first time on Tuesday, Dec. 20, to check it out. McLaughlin used to be sponsored by Calavera when the business was at its peak. He's glad to see Prescott has a skate shop again.
"That's what this community really needs right now," McLaughlin said. "With having a shop, it gives support to the skateboarding community, and they're able to put on contests and events."
It's also a convenience for anyone needing skate supplies, he said.
"It's way more convenient than ordering things off the internet," McLaughlin said. "Plus it gives you the opportunity to actually know the people that skate in this town. To me that makes all of the difference, because you're not just buying from a big brand company online, you're actually buying from a shop and actually supporting the community."
To be competitive in the open market, Dennis said they offer a price match guarantee.
"I'll match the price of anything online after shipping and tax is included," Dennis said.
They also offer specials on certain days of the week, such as a Truck Tuesday and a Wheel Wednesday.
"I try to keep my prices reasonable so we can get everybody on a skateboard," Dennis said. "That's the whole point, is getting everyone back into the industry."
More like this story
SUBMIT FEEDBACK
Click Below to: