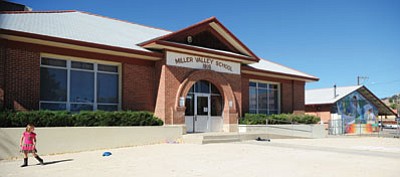 Photo by Les Stukenberg.

Originally Published: December 23, 2016 6 a.m.
PRESCOTT – The school district's Governing Board on Tuesday night, Dec. 20, voted to modify the purchase agreement on two of three of the buildings it intends to sell to a Phoenix developer.
The closing date for those two properties – the district offices on Granite Street and the former Dexter Elementary School – is now scheduled for Jan. 24. The closing date for the now-closed Miller Valley Elementary School on Iron Springs Road is still scheduled for Feb. 6.
The board had a 20-minute closed-door session to talk with its lawyer about the modified agreement, one that was initially discussed in a lengthier closed-door session last week, with Ironline Partners LLC.
The board agreed to make the requested modifications that will likely impact the price, though those figures have yet to be revealed.
Superintendent Joe Howard said the buyers as part of their due diligence related to marketability of the properties they intend to purchase has raised some questions, particularly related to the former Dexter school that is leased until the end of the school year to Northpoint Expeditionary Learning Academy. The initial contract with the buyers required that the lease with Northpoint be honored, and possibly even extended. That stipulation has not changed, Howard said.
Neither the district's real estate brokers nor the buyers were present for the vote.
The buyers' research into the marketing potential for these buildings has prompted concerns about what can be done with the properties, and because of those issues they requested some modifications in the agreement, Howard said.
In September, the board agreed to sell the three properties to Ironline Partners LLC at the appraised price, a figure that has remained confidential to not jeopardize the current, or future, real estate negotiations should the deal be cancelled prior to the official closing date. In that deal, Ironline was given until February to finalize the contract.
"We're being fiscally responsible," Howard said. "We want to get the most we can."
Once the contract goes to closing, Howard said he will be happy to publicly reveal the selling price, and any other particulars he can share with the community.
Part of the initial agreement with the buyers would allow the district administration to retain use of the buildings for at least nine months. The plan as it stands now is for the district offices to be relocated to the upper floors of the Washington Traditional School that was closed a year ago as an elementary school. The district's pre-school program, Discovery Gardens, is now located in the building.
The five-member board has labored over every decision related to the sale of these buildings, and the members continue to be diligent in their roles as the district's financial watchdogs as they seek to "do the will of the community," Howard said.
"These are not easy decisions," Howard said. "But I am confident things are going well and moving forward."
More like this story