NAZ Suns player profile: 'Ski' Cog
Although injured, NAZ Suns still leaning on floor general Askia Booker for leadership
By
Doug Cook
|
dougout_dc
Originally Published: December 23, 2016 6 a.m.
PRESCOTT VALLEY – As Askia "Ski" Booker walked gingerly into the home locker room at Prescott Valley Event Center last week, his body language revealing frustration and disappointment.
The Northern Arizona Suns' starting point guard grabbed a seat and spoke of a nagging groin injury that has affected both his right and left sides.
Booker, NAZ's vocal leader who's a native of Inglewood, California, has taken his aches and pains in stride, as if they were destined to occur in this early stage of his pro career.
While his teammates were in Santa Cruz, California, preparing for an NBA Development League game, Booker revisited a life lesson – how to handle adversity with a positive attitude. The 6-foot-1, 170-pound Booker suffered the injury on Nov. 23. He played in several ensuing games until the pain inhibited him too greatly.
"I even talked to [NAZ Suns] coach [Ty Ellis] about it – I just didn't feel the same physically, not mentally," said Booker, crediting NAZ's trainers for their superb care. "I just couldn't do the things that I wanted to."
When healthy, Booker cuts quickly on the basketball court, whether he's trying to outrun a defender or going step-for-step with another speedy guard.
On Dec. 18, Booker missed his sixth game. The Suns are presently riding a season-high three-game losing streak without him. NAZ entered Thursday at 10-4, one game behind the L.A. D-Fenders (12-4) atop the Western Conference's Pacific Division.
Booker likely needs to rest another week before returning to the lineup. In the meantime, Booker will undergo physical therapy and continue shooting.
In eight games, Booker has averaged 20.1 points, 3.6 rebounds and 4.8 assists. Undrafted out of the University of Colorado in Boulder, Colorado, in 2015, Booker played overseas briefly before returning to the States to play for the Bakersfield Jam (2015-16), the Phoenix Suns' former D-League affiliate. The Suns wanted him back this season to play for NAZ.
Photo Gallery
NAZ Suns vs Reno Bighorns 112516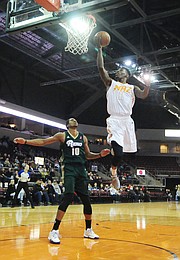 Photo Gallery
NAZ Suns Vs Santa Cruz Basketball 121416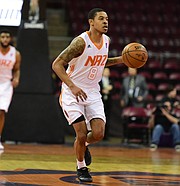 "I went to Greece for 2-1/2 to three months and it just didn't work out, and I decided to come back," Booker said. "And when I came back, the Suns gave me a shot. I wanted to put my all into this team. I felt like this was the quickest way, for sure, to the NBA."
This isn't the first time Booker has tried to play through an injury.
For most of his junior year at Colorado in 2013-14, Booker played with a fractured right wrist. That's his shooting hand, by the way. Booker said he landed awkwardly on his wrist in practice. He heard a crack, and a chipped bone floated loosely in the wrist for months.
"It was bothering me every time I flicked my wrist," added Booker, a Pac-12 honorable mention pick that season. "I just played through the pain. I wrapped my wrist up every game."
For years, Booker has overcome struggles on and off the court.
Born Aug. 31, 1993, Booker traveled back and forth between the custody of his black and Puerto Rican mother and his black and Swiss father, who were separated.
"My dad put the ball in my hand at a young age," Booker said.
He lived mostly with his mom, however. She raised him in the south-central Los Angeles suburb of Crenshaw, where the notorious Bloods and Crips gangs have fought over turf for decades.
"It's a rough neighborhood, but at the same time it makes you tough," said Booker, who lived in a Bloods area near 77th and Crenshaw.
Drug deals. Shootings. Robberies. They happen daily in Crenshaw. Booker said he had a few run-ins with criminals where he could've died.
"I've seen people get robbed at 7 a.m. at the bus stop going to school," Booker said. "It's ridiculous. You just have to stay on your toes and just try to stay out of the way. That's what basketball did for me. It kept me out of that spotlight."
Booker made the varsity team as a freshman at Price High in L.A., but he didn't play. As a sophomore, he didn't play either. So he asked his half-brother Rene Johnson, who's a physical fitness trainer, and a shooting coach named Andre Smith to "make him into a superhuman over the summer" before his junior year.
"I didn't do anything else besides basketball," Booker said.
As a junior in the late 2000s, Booker did play, and Price won a Division IV state title. He started receiving college scholarship offers. Booker suited up with star shooting guard Allen Crabbe, now of the Portland Trail Blazers, and Richard Solomon, now a pro in Europe.
Back in Prescott Valley last week, as he left the locker room, Booker headed to Bradshaw Mountain East High School's gym to shoot 500 3-pointers. He stayed patient with his ordeal and focused on the team.
At 7 p.m. today, Dec. 23, the Suns play host to the Oklahoma City Blue, at PV Event Center. They will go without Booker again, as he sits on the sideline cheering his teammates.
"The only thing that comes from me is me being as selfless as possible on the floor," Booker said. "If we stay healthy and we continue to prepare ourselves the way we have, we won't ever be out of the championship-contender talk."
Follow Doug Cook on Twitter @dougout_dc. Reach him at 928-445-3333 ext. 2039, or 928-642-7865.
More like this story
SUBMIT FEEDBACK
Click Below to:
This Week's Circulars
To view money-saving ads...