Chew On This: Park Plaza Liquor & Deli doubles in space

By
Max Efrein
|
mefrein
Originally Published: December 22, 2016 7:12 p.m.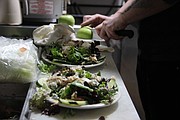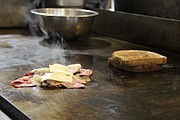 In recent history, it wasn't unusual for Park Plaza Liquor & Deli customers to wait upwards of an hour to claim a seat at the popular restaurant/liquor store.
So when the owners of the business took over a neighboring space and began remodeling it a year ago, many naturally assumed it was to add 200 seats for dining.
That was never the plan, said Erik Rackoff, Park Plaza Liquor & Deli General Manager.
About 45 seats were added, but the majority of the newly acquired 8,000 square feet has been designated for — you guessed it — alcohol.
"More than anything, there was just a lot of liquor that we weren't carrying," Rackoff said.
Wine racks and stacked boxes of spirits create little islands throughout the new space. In the center of the room is a checkout register stocked with cigarettes and related items.
While the establishment previously focused almost solely on providing craft alcohol, the expansion has allowed them to buy and stock more affordable brands of liquor in bulk, thereby allowing them to provide certain items for more competitive prices, Rackoff said.
Additionally, whenever they hosted a special event, such as a beer or wine tasting, it often consumed any available space in the store and left regular shoppers struggling to peruse the options.
"We really wanted to make it more comfortable for people," he said.
The seating that has been added comes in various forms.
Behind a glass wall, about 20 seats are neatly arranged around a large rectangular table. This is a private dining space fitted with high definition televisions that can be reserved by large parties.
In the opposite corner of the new space is a bar with nine plush seats. The bar features 10 new taps and will soon have televisions to watch.
And near the bar are four high-top tables with four stools each.
The remaining square footage is filled with brand new restrooms, additional storage space and a large humidor that is currently empty but will gradually be filled with hundreds of cigars.
Despite doubling their area, nothing feels all too different about the establishment, a point Rackoff made note of.
"This is still a place that mom and dad want to eat at with their kids and grandma and grandpa want to eat at with their grandkids," Rackoff said.
Customers clearly appear to be enjoying the additional space, especially since the outside patio is often too cold to sit in during the winter months.
"Before, inside was so noisy because it was all together," said Mike Heffley, a regular patron. "So now we can use it year round and not have to worry about that."
Park Plaza Liquor & Deli is located at 402 W. Goodwin St., Prescott. Call 928-541-9867.
More like this story
SUBMIT FEEDBACK
Click Below to: