LEADERS & ENTREPRENEURS: Meet the founder of Honor Flight Arizona

By
Max Efrein
|
mefrein
Originally Published: December 18, 2016 6 a.m.
Susan Howe walked to her mailbox on Wednesday, Dec. 15.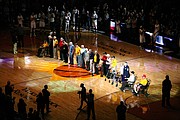 Among other deliveries was an ordinary-looking envelope.
Inside was a photo of a pug wearing a Santa Claus hat and a check made out to Honor Flight Arizona for $20,000.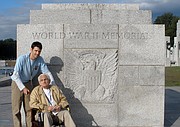 Howe, founder of Honor Flight AZ, is no longer surprised by such significant donations to the organization she started in 2008. In fact, this is the third year in a row that the same trust fund has sent such a check.
It wasn't always so easy to find funding, however.
In the organization's infancy, Howe struggled to raise any money at all for what she strongly believed was a worthy cause: treating the last surviving WWII veterans to an all-expenses paid trip to Washington D.C., so they could see the National WWII Memorial for often the first and last time.
Obviously, 2008 was a tough time financially for everyone in the United States and much of the world, but Howe does not believe that was the primarily reason people weren't donating.
"In 2008, we were not holding our veterans in high esteem at all," she said.
The task was becoming so arduous that she nearly gave up.
While she was driving to Payson to do a radio interview about the recently incorporated nonprofit, she told herself "just this one last time."
By that point, she had already spoken to countless organizations and businesses and done many interviews with local media outlets. Everything proved more or less futile.

"We got $5 here and some other small donations there," Howe said.
The moment she began talking about Honor Flight AZ on that small-town radio show, however, donations came flooding in from members of the Payson community. By the time she left the radio station, she had raised $6,000.
"That's what kicked us into our very first flight," Howe said. "It was because of Payson."
During that first trip, Howe said she was "scared to death." That's no longer the case. As of December 2016, Howe and her board of volunteers have successfully coordinated and executed 61 Honor Flight AZ trips.
"Now we have an incredibly well-polished, well-oiled machine that we know exactly where we're going and what we're doing," Howe said.

Before she began building this machine that has enriched the lives of hundreds of veterans and their families, Howe was a nurse.
Soon after retiring in 2008, she took her father, a B 24 nose gunner in WWII, on an Honor Flight out of Ohio.
Seeing what the trip did for him and the other WWII veterans accompanying them, she felt compelled to start the first Honor Flight program in Arizona — and the only one west of the Mississippi River at the time.
"I thought 'I have to do something to honor those who were in the military and veterans,'" Howe said.
Her father hadn't been the only one who had served in the military by that time either. Her two sons served in Iraq, a son-in-law was serving in Navy submarines and a daughter-in-law was a medic in the Army.
Though it was difficult to establish, the nonprofit has now taken on a life of its own.
Like clockwork, the organization, which is now split into two regions (north and south), plans and conducts eight to 10 trips a year.
And as for the veteran sentiment in the U.S. is concerned, Howe said she's amazed at how well it's developed from just a few years ago.
"What do you see now? People wearing caps saying 'WWII Veteran' or 'Proud to say I'm a Vietnam Veteran,'" Howe said. "That wouldn't have been there a couple of years ago. You wouldn't have seen that on cars in 2008."
Just this last Pearl Harbor Day, Dec. 7, the owners of the Phoenix Suns basketball team invited Howe to bring as many WWII veterans as she could get her hands on to be wined, dined and honored during a game being played that day.
"We had a suite, they fed us like kings and queens," Howe said.
After the first quarter, famous images from Pearl Harbor were shown to the audience and the 20 WWII veterans Howe brought were helped onto the court.
"Everyone was just standing up and clapping and cheering and clapping and clapping and clapping," Howe said. "And I just thought 'you know what, these guys deserve it.' I think it's honor to who honor is due."
More like this story
SUBMIT FEEDBACK
Click Below to: