Gerald and Linda Votava celebrate 50 years of marriage
Originally Published: December 18, 2016 6 a.m.
Gerald (Jerry) and Linda Votava of Prescott celebrated their 50th wedding anniversary on November 12, 2016. They were married at the Waverly Church in Santa Ana, California, and lived in Santa Monica, Villa Park and Irvine, California, where Jerry was involved in banking, and Linda was a homemaker and an administrative assistant. After visiting family living in Prescott numerous times, they chose this city as their home after retirement 13 years ago. Their daughter, Leslie, of Southern California, surprised them with a small family dinner in Prescott on November 11. Their son, Jeremy, and Amanda Detmer, had a special dinner celebration for them over the Thanksgiving holiday in Chico, CA. They will again celebrate in the spring at the Del Coronado Hotel in southern California, a gift from their son, John, and his wife, Allie. Jerry and Liinda have four grandchildren, ages 5 to 15, all living in California.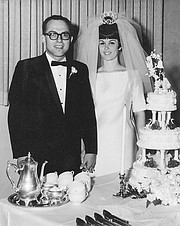 More like this story
SUBMIT FEEDBACK
Click Below to: