Church News: Week of Dec. 17, 2016
Originally Published: December 17, 2016 5:59 a.m.
Free Tickets for the Phoenix Symphony Orchestra Performance of the Works of Leonard Bernstein. Temple B'rith Shalom has announced free tickets are being offered for the 3 p.m. Sunday, Jan. 22, performance at Yavapai College Performing Arts Center. Tickets will be available on a first-come, first-served basis, and are limited to two tickets per family. Information on how to receive the free tickets, email David Hess, dhess2001@gmail.com.

Christmas Cantata: "Mary, Did You Know?" will be performed at 2 p.m. Saturday, Dec. 17, in the sanctuary, Trinity Lutheran Chruch, 3950 N. Valorie Drive, Prescott Valley. Refreshments will follow in Fellowship Hall. No admission charge.
Celebration of Light and Love, 11 a.m. Sunday, Dec. 18, Stoneridge Community Center, end of Stoneridge Drive on the corner of Destiny Drive. This is a potluck. Main dish and service utensils will be provided. Please bring a dish to share.
"Sounds of the Season," the annual Chino Valley Community Interfaith Christmas program, is 6 p.m. Sunday, Dec. 18, at St. Catherine Laboure Catholic Church, Highway 89 and Road 3 North in Chino Valley. A community tradition for nearly 40 years, the choir consists of more than 30 singers from around the area under music directors from St. Catherine's, United Methodist Church, and the Church of Jesus Christ of Latter-day Saints. Sandy Jones and Jami Lewis are accompanists. Dorothy Kemp will lead sing along carols from the piano, beginning at 5:45 p.m. St. Catherine's children's choir will sing verses of "Here We Come a Wassailing," "Christmas is Coming" and "Away in a Manager." For more information, call the church office, 928-636-4071.
Emmanuel Lutheran Church in Prescott Valley plans several special worship services for the Christmas season. This Sunday, Dec. 18, will be services filled with special music and overflowing with the excitement of children.
Sunday's early service, starting at 8:15 a.m., is the annual Christmas cantata. Music director Gene Fougner said this year's cantata is called "Candles and Carols" and features well-known Christmas carols, interwoven with the Christmas story and words for today.
"Special bell choir parts have been written to go along with the vocal choir and congregational singing," Fougner said. "It is a service of hope, peace, joy and love. This presentation is a corporate worship experience in a traditional sense."
Then, at the 10:15 a.m. service, Emmanuel's youth will present "Twas the LIGHT Before Christmas," this year's Christmas program. The youth are under the direction of Faith Formation Director Brita Hammit.
Three services will take place Christmas weekend. On Christmas Eve, join Emmanuel Lutheran for one of two blended candlelight services. The 6 p.m. service will be accompanied by the contemporary worship ensemble, and the 8 p.m. service will be accompanied by organ music with a handbell ensemble piece. Both services will include the telling of the Christmas story. Then, since Christmas Day falls on a Sunday, Emmanuel will celebrate with a 10 a.m. special worship service with carols and special readings.
Emmanuel Lutheran Church is located at 7763 E. Long Look Drive (corner of Long Look and Loos drives, Prescott Valley. For more information about Emmanuel's programs and ministries, call 928-772-4135 or go online to www.EmmanuelLutheranPV.org.
Intergenerational Service: Winter Solstice Celebration, 7 p.m. Wednesday, Dec. 21, Granite Peak Unitarian Universalist Congregation, 882 Sunset Ave., Prescott. Everyone is welcome to join in as the longest night of the year is honored. The return of the light will be welcomed through ritual, lighting candles, readings and drumming. The celebration will conclude with the burning of the Yule log and singing solstice songs. Information: www.prescottuu.org
Beit Torah welcomes the Sabbath with Kabbalat Shabbat study dinner, 5 p.m. Friday, Dec. 23, in Prescott. For location, directions and details, 928-237-0390, or email: ansheitorah@cableone.net.
Christmas Eve Candelight Service, 6 to 7 p.m. Christmas Eve, Dec. 24. Christmas Day Service 11 a.m. to noon, at Dewey Faith Assembly of God Church, 549 S. Clearview Drive, Dewey.
Hope Lutheran Church Candlelight Christmas Eve service, 4 and 6 p.m. Saturday, Dec. 24. Theme will be "The Christmas Spirit of Joy." Worshipers will hear the Christmas story and sing Christmas songs. Children who attend will receive a special gift.
Temple Chanukah Party, 6 p.m. Saturday, Dec. 24, Temple B'rith Shalom. Be sure to bring a non-dairy Chinese, or other, dish to share, a gift card for CCJ from Walmart or Home Depot, and your Menorah to light. RSVP by Tuesday, Dec. 20. Call 928-708-0018.
Prescott Valley United Methodist Church, Christmas Eve Service, 5 p.m. Saturday, Dec. 24. Christmas Day Service, 10:15 a.m. Sunday, Dec. 25.

Don't Spend Christmas Alone - St. Luke's Gift to the Community" is a free event offering a full Christmas dinner and fellowship for everyone in the quad-city area who may be alone or feel alone on Christmas Day. Volunteers also will visit the home-bound and deliver a meal, so they too may feel a part of the celebration. St. Luke's Episcopal Church is located at 2000 Shepherd's Lane, one block north of the Airport light on Highway 89 in Prescott. For more information, meal delivery or to volunteer your assistance for this event call St. Luke's Episcopal Church at 928-778-4499 or info@slecp.org.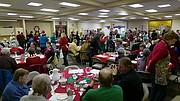 Chabad of Prescott's Menorah Lighting and Chanukah Celebration, 5 p.m. Sunday, Dec. 25 at Courthouse Square, Whiskey Row – Montezuma side.
Sacred Heart Catholic Church, Classical music Latin Mass, 10 p.m. Saturday, Dec. 24. Dr. Philip Kuhns and Arlene Hardy will direct a string ensemble and singers from Sacred Heart, Yavapai College and the local area in a performance of Wolfgang Amadeus Mozart's
Missa Brevis in G Major" KV No.. 49, 1768. A sing-along of traditional Christmas carols in the church sanctuary will precede the Mass at 9:30 p.m.
Sound Sketch, a new entertainment group created by Brian and Anthony Lockard, will present a varied program of Christmas music, in addition to Christmas-themed sketches, 5:30 p.m., Wednesday, Dec. 21, at Trinity Lutheran Church, Prescott Valley. A free-will offering will be taken. Contact: 928-772-8845.
St. Germaine Catholic Church, Christmas Eve services: 4 p.m. children's; 6:30 p.m. Spanish; and 9 p.m. Christmas Day, Dec. 25, mass at 9 a.m. The church is located at 7997 E. Dana Drive, Prescott Valley. Information, 928-772-6350.
Trinity Lutheran Church Christmas Eve Candlelight Service, with communion, 3 p.m. (liturgical) and 6:30 p.m. (praise). A new Family Service, designed for families with young children, 4:45 p.m. Christmas Day service, 9:15 a.m. in the sanctuary.
The New Year will bring a new location for Canyon Bible Church of Prescott. The church will move its worship services to the Ruth Street Theater at Prescott High School, 1050 Ruth St., beginning Sunday, Jan. 1. Pastor Andrew Gutierrez will continue his current teaching series through the book of John during the services, which begin at 9 a.m. Canyon, a nondenominational Bible church, has been meeting at Miller Valley Elementary School since it began services in December 2014. Due to growth and the upcoming sale of Miller Valley, the church needed bigger facilities. The church has Children's Ministry for infants through fifth grade that meets during the worship service. Additionally, there are youth and college groups that meet mid-week. Beginning in January, men's and women's Bible studies will resume with studies of Ruth and Jonah. Anyone who is looking for a church home is invited to attend. For more information, please contact the church office, 277-0017, or visit the church's website, canyonprescott.org.
Share the Gospel Training, for people of all denominations who want to learn how to talk to people about the good news of Christ, meets 11 a.m. to 1 p.m. Saturdays at Union Station, 114 Union St, Prescott. For information, call Pat, 612-202-0842
"The Twelve Powers," a film celebrating the Charles Fillmore classic, will be presented at 7 p.m. Jan. 20, at Unity of Prescott, 145 Arizona Ave., Prescott. Tickets are $10. Contact: 928-445-1850.
Community Bible Study is a non-denominational women's Bible study making disciples of the Lord Jesus Christ in our communities through caring, in-depth Bible study. The course of study is the Epistle to the Romans written by the Apostle Paul. Join us for transformed lives through the study of the Word of God. Open enrollment for the 30-week course of study is every Wednesday from 9:15 to 11:15 a.m. at Hillside Community Church of God, 937 Ruth St. in Prescott. Course runs from Aug. 31-May 3, 2017. For more information, call Teaching Director Marless Taylor at 928-460-2944 or email prescottcbs@gmail.com.
The ecumenical Prescott Contemplative Prayer Group will start a free new course in May. "Centering Prayer, A Training Course for Opening to the Presence of God" includes a workbook with readings and reflections as well as videos. The Prayer Group meets Mondays, 9 to 10:30 a.m., at the St. Anthony Room at Sacred Heart Church, 150 Fleury Ave. Please call Robert at 928-717-2441 or Fran at 928-445-8072, for more information and to register.
Refiners Fire Cowboy Church meets at the W Bar D Sports Rodeo Arena 764 W Road 1 South, in Chino Valley. Church service begins 10 a.m. every Sunday morning. They are a non-denominational, non-traditional come as you are church. They also have children's church for our buckaroos. The music is country Christian and old Gospel hymns. Wednesday night cowboy Gathering service is at 6:30 p.m. For more information, call 928-899 52297 or email refinersfire1cowboychurch@gmail.com or at Refiner Fire Cowboy Church on FB.
All Saints Anglican Church, 1806 N. Savage Lane, Prescott, has started a Men's Fellowship on the second Saturday of the month. The purpose is dealing with the needs of the buildings, etc., and a time of spiritual fellowship. For information, call 928-443-5323.
All Saints Anglican Church, 1806 N. Savage Lane, Prescott offers Women's Bible Study on the 3rd Friday of each month. The topic of the study will be the book of Ruth. All ladies are welcome. It starts with coffee at 8:45 a.m. and the study begins at 9 a.m. For more information, see www.prescottanglicans.org or call 928-443-5323 or 928-915-5547.
All Saints Anglican Church, 1806 N. Savage Lane, Prescott, meets every weekday for Morning Prayer according to the Book of Common Prayer (1928) and on Wednesday evenings for Evening Prayer. For information, call Bishop George Fincke at 928-443-5323.
First Congregational Church of Prescott, 216 E. Gurley St., Prescott, is beginning a Jazz Vespers Series from 6:30 to 8 p.m., the last Wednesday night of each month. These informal events are open to everyone of all faiths. The focus is on the music and the opportunity to hear it in an "acoustically alive" historic sanctuary. Admission is free, but an offering will be taken for the benefit of the musicians.
Compassionate Friends, a support group for people who have lost children meets every 4th Thursday of the month at 11 a.m. at Trinity Lutheran Church lower level. The address is 3950 N. Valorie Drive, Prescott Valley. For more information, contact Donna at 928-460-0168.
The Children's Clothes Closet and the Community Service Food Bank are open at the Prescott Seventh-day Adventist Church, 2980 Willow Creek Road, from 9 to 10:30 a.m. on Thursdays.
Connection Church meets Sundays at Abia Judd Scholl, 1749 Williamson Valley Road, Prescott, in the Gym. Fellowship is at 10 a.m. and service is at 10:30 a.m. Childcare is available. Lead pastor is Jake Madlock. For information, email theconnectionchurchaz@gmail.com.
Revival Fire Ministries, Inc., a Cleveland, Tennessee based Church of God, a full Gospel Pentecostal Church, preaching the entire word of God, as it is written, is now in Prescott. They believe in being born again, sanctification and Holy Spirit Baptism. All are welcome – the faithful and those with little to no faith. Pastor Fred Hays will deliver the message. Fellowship is at 10 a.m. with worship service at 10:30 a.m. Sundays, at La Quinta Inn, 4499 E. Highway 69 in Prescott. For additional information, call Pastor Fred Hays at 928-201-1885.
Ahava B'Shem Yeshua meets at the Alliance Bible Church, 2601 Iron Springs Road, Prescott. Come join us for worship, dance, prayers and teachings this Shabbat. For information, email abyprescott@gmail.com.
Faith Christian Fellowship of Kirkland has 10 a.m. Sunday services and 6:30 p.m. Thursday service at the Kirkland Elementary school. Join us and experience His grace as we boldly approach His throne. (Hebrews 4:16). Children's church is provided. Pastor Greg Poole presents the message. For more information, contact Pastor Poole at 928-231-0495.
Are you interested in becoming Catholic or would like to complete the sacraments as an adult? If so, St. Germaine Catholic Church in Prescott Valley has a program for you! It's called RCIA, and it begins soon. To sign up or for more information, contact Robert at 928-772-6518 or stg-re-adult@cableone.net. Inquirers are welcomed.
The Anglian Church of the Holy Spirit announces they have moved to a new location. They are now meeting in the fellowship hall at the Prescott Valley United Methodist Church, 8944 E. Sommer Drive, Prescott Valley. Sunday worship is at 9 a.m., featuring a Holy Communion service with music and using contemporary language. They have an active healing ministry, as well as regular study groups. They are a warm, loving Christian family and welcome visitors and new members.
All Saints Anglican Church of Prescott started a service of Morning Prayer each weekday morning at 8 a.m., meeting in the chapel, 1806 N. Savage Lane, Prescott. The service is taken from the Book of Common Prayer (1928). The service is geared for those who desire a more disciplined spiritual life, to gather to pray, to confess our sins, to hear Holy Scriptures read aloud, and to pray for others. The service has been done in English since 1549 in a variety of Books of Common Prayer, and has been a part of the spiritual life of Anglican Christians as long. We use the 1928 Book of Common Prayer. All (including non-members and non-Christians) are welcome. For more information, call 928-443-5323.
Faith in Fitness classes take place Tuesdays and Thursdays at First Southern Baptist Church Prescott Valley, 2820 Pleasant View Drive. They are designed to increase muscular strength, endurance and flexibility using stability balls, resistance bands and mats. There is no cost for the class. For information and times, call 928-772-7218 or check online at www.firstsouthernpv.org.
The Connection Church, a non-denominational community of people who desire to experience a powerful relationship with our Heavenly Father, meets at 10:30 a.m. on Sundays, at Abia Judd Elementary, 1749 Williamson Valley Road, Prescott. Its mission is to "Love God, Love People, Love Life." For additional information, call 928-830-7619.
Grace Bible Fellowship of Prescott hosts Bible studies and discussions 10:30 a.m. Sundays at the Adult Center of Prescott, 1280 E. Rosser St. Pastor Tom Perconti brings deep, impacting, verse-by-verse teaching from the Word, followed by challenging, warm and supportive fellowship and discussion time. For more information, visit www.graceprescott.org or call 928-273-8491.
Compassionate Friends, a support group for parents who have lost a child at any age or however long ago, meets the second Tuesday of each month at Prescott United Methodist Church, 505 W. Gurley St. Pastor Carol Mumford leads the group, and any community member who has lost a child may attend. This is just one of the support groups that meets each month at PUMC. Other groups offer support for those with health issues such as breathing problems, cancer, depression and fibromyalgia/chronic fatigue. Contact the church office at 928-778-1950 for more information about these groups.
More like this story
SUBMIT FEEDBACK
Click Below to: