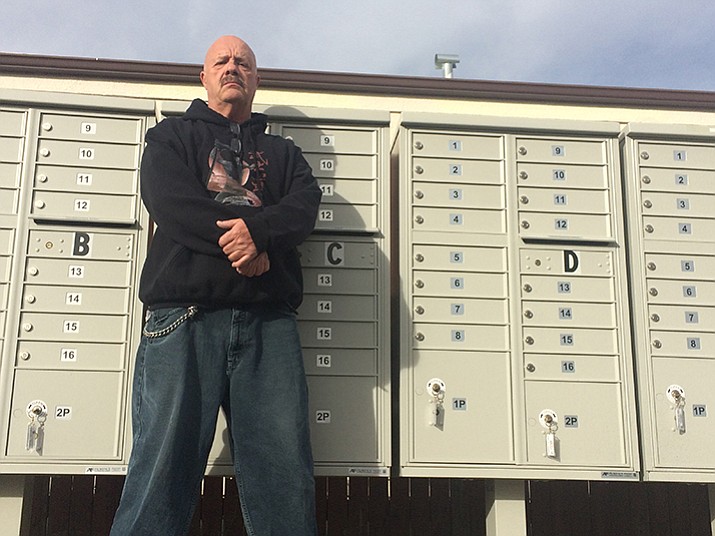 Photo by Jason Wheeler.
Originally Published: December 16, 2016 6:01 a.m.
About two months ago, Prescott Valley resident Mark Peterson said his neighborhood got brand new mailboxes installed after other residents had their mail stolen.
It didn't take long for thieves to strike again, Peterson said.
"People were getting stuff ripped off left and right and now that Christmastime is coming, these lockers are easier to get into than the ones before. Everything is out in the front, there's no cameras out in the front," he said, also commenting on the lack of light in the vicinity. "Not even a month after they replaced them, my packages were ripped off."
Peterson said that he ordered more than 15 packages from Colt Knives because he learned they were going to stop production of knives. Two of his packages are missing, he said, so he filed a police report.
During the holidays the two primary items that Prescott Valley Police Department officials see most in thefts are packages and Christmas decorations, PVPD Public Information Officer Jerry Ferguson said. Usually patrols will watch for delivery trucks and follow them to see where they're dropping packages off and then do a patrol of the area, he said.
It's hard to say the exact number, but there is a higher percentage of packages stolen during the holidays, Ferguson said.
Peterson said he wants his money back for what he lost. United States Postal Inspector Ed Trejo said that typically if a person doesn't receive what they purchased, they can reach out to the company they ordered from for their money back.
"If the package is insured, they can get a reimbursement," Trejo said, also noting that people can go report they never received their package to the seller who should reimburse them. However, the mail carrier does have an obligation to make sure that packages are not just left sitting around if the mailbox is owned by the United States Postal Service rather than the property owner, he said.
Peterson said he can't ask for a refund because Colt Knives has gone out of business.
On the other hand, if the person orders the package through a private company such as UPS or FedEx and those are taken, those packages are the responsibility of those companies, Trejo said.
There are steps people can take to make sure their packages are safe, Ferguson said.
"Part of it would be to let neighbors know that they're expecting packages and to keep a lookout if they've got neighbors that are in the area and pick them up for them," he said.
Another solution would be to have the packages shipped to a place where they can be safely picked up later, Ferguson said. Trejo said that packages can be ordered to a place of work as well as the post office.
When calling into the post office, Peterson said it took him almost a week to get in touch with the supervisor, who he said purposefully avoided him. He also had to beg for an apology, Peterson said.
It shouldn't take that long reach a post office supervisor as there's always one on duty, Trejo said, adding that there is a national number for people to address customer service issues when it's not possible to do so on a local level. That number is 800-275-8777. People can also go online to www.usps.gov, Trejo said. To report instances of mail theft, call the US Postal Inspector at 877-876-2455 or email the office at postalinspectors.uspis.gov, he said.
Despite packages thefts picking up around the holidays, mailing items continues to be one of the most secure means of transmitting information, Trejo said, stating that out of all the mail sent, it's a small percentage that's misplaced or taken.
Peterson said he's a concerned citizen and said that Prescott Valley is too small of a place for something like this to go on.
"There's precious people here. Most people didn't know there was a theft," he said. "If the word got out, there'd be a lot more concerned people."
More like this story