Postcard book chronicles 'places and spaces' of Yavapai County

By
Cindy Barks
|
Cindy_Barks
Originally Published: December 11, 2016 6:28 a.m.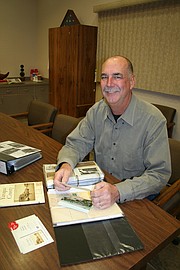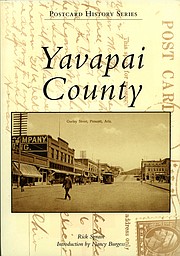 The old-time cursive script at the bottom of the black-and-white photo makes early-20th-century Jerome sound lively and engaging.
"You can imagine from this how much fun I am having to live in a place like this," the long-ago writer scribbled on a photo of ore wagons on Jerome's Main Street.
The vintage postcard is just one of more than 200 tidbits of local history included in a new book by longtime postcard buff Rick Sprain.
Scheduled to be released Dec. 12, the book – "Yavapai County, Postcard History Series" – features 127 pages with 233 postcards, ranging from 1904 through the 1980s.
"The book includes postcards from all over Yavapai County, from Black Canyon to Arcosanti, from Congress and Bagdad to Seligman and Ash Fork, and everywhere in between," says Sprain.
Longtime local historian Nancy Burgess provided the introduction to the book, stating: "The images and detailed captions presented in 'Yavapai County' provide an incredible insight into the places and spaces and the life and times of Yavapai County since the first scenic views of Arizona were published more than 100 years ago."
Burgess traces the origin of souvenir postcards to 1893, when the Columbian Exposition in Chicago offered chromolithographed images printed on the backs of U.S. Postal "penny" cards, which could be mailed at a 2-cent letter rate.
"Since the beginning of the 20th century, postcard collectors have sought out the beautiful scenes of Arizona," Burgess wrote, "but only recently have collectors sought out postcards as a historic record offering a treasure trove of images and comments."
Sprain, who has lived in Prescott since 2012, says he was always fascinated with history, even as a child. He collected postcards as he was growing up in the San Jose, California, area, starting out with cards depicting California's Gold Rush.
After retiring to Prescott from a 30-year career in law enforcement, Sprain said he realized that the histories of the two areas were fairly similar – both heavy in mining and railroads.
As a new Prescott resident, Sprain said he began taking four-wheeling excursions in his Jeep, and became immersed in the local history.
Soon, he said was meeting with other postcard collectors and going to postcard shows, on the search for original postcards that revealed the area's history. He especially likes cards that were sent – like the Jerome card – because they give a feel for the sender's views and interests.
Sprain says he used many of his own cards for the book, and also sought out area postcard collectors and historical societies – many of whom allowed him to use illustrations of their cards.
The "Yavapai County" book is being published by Arcadia Books, and will sell for $21.99. Sprain said it would be available at a variety of local establishments, including Peregrine Book Company, Sharlot Hall Museum, Phippen Museum, and Prescott True Value Hardware, as well as on Amazon.com, and BarnesandNoble.com.
More like this story
SUBMIT FEEDBACK
Click Below to:
This Week's Circulars
To view money-saving ads...