NAZ Suns improve to 10-1 minus point guard Booker
By
Doug Cook
|
dougout_dc
Originally Published: December 10, 2016 10:47 p.m.
PRESCOTT VALLEY – Playing their fourth game in eight days, the Northern Arizona Suns needed everything they had to notch their seventh straight win while improving to 10-1 for the best record in the NBA Development League.
Photo Gallery
NAZ Suns vs Iowa Energy Basketball 121016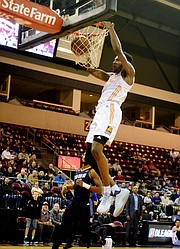 On Saturday, Dec. 10, NAZ edged the Iowa Energy, 113-107, to stay undefeated at Prescott Valley Event Center at 8-0. The Suns own the D-League's longest active winning streak, while Iowa has the longest current losing streak of six games.
Five Suns players scored in double figures and NAZ converted 28-of-34 free throws, including four in the final 18 seconds to seal the victory.
Derrick Jones Jr. led the Suns with 23 points, eight rebounds and four steals. Johnny O'Bryant (19 points, 6-for-6 FTs), Xavier Silas (18 points, 6-for-6 FTs) and Josh Gray (18 points, seven rebounds, four assists, 6-for-6 FTs) followed.
"It took a lot of heart, a lot of guts from this team to finish three games in four days, and a lot of players on this team [being] banged up," Jones Jr. said.
Gray started in place of injured starting point guard Askia Booker and shined.
This was the Suns' second victory over the Energy (2-10 overall) as the 2016-17 season wraps up its first month. They topped Iowa, 121-104, in the campaign's home opener Nov. 12 at PVEC.
The Suns entered Saturday with the league's best defense, but its second-worst from the charity stripe.
"Part of my message today was 'we have to respect the opponent and respect the moment,' " NAZ coach Ty Ellis said. "Every game we step out on the court, because of our success, we're playing the [other] team's best. Another part of my message is, 'we've got to stop leaving points on the board at the free-throw line.' "
NAZ played on back-to-back nights for the second time this season on Saturday. The Suns defeated the Salt Lake City Stars in a home-and-home series Nov. 18 and 19. Millsap said the team has been putting in extra time after practice on its free-throw shooting, and it paid off.
"Coach has been stressing it for the past couple weeks, and today we came out and we executed," he added.
Booker missed Saturday's contest with a groin injury. Gray played a team-high 38 minutes and 14 seconds Saturday.
"I'm always confident, and I feel like my job is to come in off the bench or start and bring a lot of energy," Gray said. "I have the same mindset every night."
NAZ led 62-45 at halftime, but would be outscored 62-51 in the second half. The Suns led 90-77 at the end of three. But the Energy roared all the way back to tie the game at 96-96 with 5:38 left in the fourth.
After a Jones Jr. bucket handed the Suns a 98-96 lead with 5:12 to go, they stayed in front for good. NAZ persevered behind Jones Jr., Millsap and O'Bryant. A Millsap tip-in with 1:44 left and his 3-pointer with 1:20 remaining made it 107-99 Suns.
Iowa's Ramon Harris sank a 3-pointer with 43 seconds left to cut it to 109-105 before Jones Jr. converted two free throws with 18 seconds left and O'Bryant netted two more with 10.9 seconds to end it.
Despite missing Booker's leadership presence, the Suns were basically in control from the opening tip. Four Suns were in double-figures scoring by halftime, as Jones Jr. and Silas both had 15 points, O'Bryant had 11 and Gray tallied 10.
NAZ led 18-6 midway through the first period. The Energy would get as close as four, 22-18, after a 3-pointer from Terry Whisnant with 2:20 left. But NAZ would go on a 14-3 run, which it carried into the opening minute of the second quarter.
In the second period, Jones Jr. put on a show. He scored on three monster dunks, including a windmill at the 9:05 mark that put the Suns in front 41-26. Up 49-39 with 5 minutes until the half, NAZ pieced together a 13-6 spurt. It was highlighted by Jones Jr.'s two-handed dunk on a rebound and his steal and jam within 40 seconds of each other.
"He definitely gets us going with those dunks and puts on a show," O'Bryant said of Jones Jr. "When we're lacking energy, one of those dunks just gets us energized again."
Next up, the Suns will conclude a season-long four-game home stand versus Santa Cruz at 6:30 p.m. Wednesday, Dec. 14. They will take Sunday off before resuming practice Monday.
More like this story
SUBMIT FEEDBACK
Click Below to:
This Week's Circulars
To view money-saving ads...