Inside the vaping world: Electronic cigarette industry getting closer scrutiny

By
Max Efrein
|
mefrein
Originally Published: December 10, 2016 6:01 a.m.
Jourdan Wheeler began smoking cigarettes when he was 11 years old.
"I wasn't just a little smoker," Wheeler said. "I smoked a lot."
By the time he was 27, he was smoking two-to-three packs a day.
He tried kicking the habit a few times, but nothing did the job for him.
"I knew my health was hurting me," Wheeler said. "I had trouble breathing. I had trouble doing anything."
On one fateful day, he discovered e-cigarettes at a smoke shop in Prescott Valley.
Popcorn lung: More studies needed
One of the potentially harmful chemicals that has attracted the most attention from media and studies is diacetyl, a chemical known to cause bronchiolitis obliterans—more commonly referred to as "popcorn lung."
Considered a serious and irreversible condition, popcorn lung's symptoms include excessive coughing and shortness of breath.
The condition got its nickname from a number of microwave popcorn factory workers being diagnosed with bronchiolitis obliterans after inhaling excessive amounts of diacetyl—a buttery-flavored chemical in foods like popcorn, caramel and dairy products — while on the job. The major popcorn manufacturers have since removed diacetyl from their products.
While diacetyl has been identified by a study done by the journal Environmental Health Perspectives as being in some — but not all — e-juice formulas, there has been considerable dispute over what are considered dangerous levels of diacetyl.
Additionally, at least two studies, one in 2014 (https://www.ncbi.nlm.nih.gov/pubmed/24635357) and one in 2005 (http://onlinelibrary.wiley.com/doi/10.1002/tox.20153/epdf) found that tobacco cigarettes contained higher concentrations of diacetyl than in e-juices.
Health professionals haven't determined how much e-juice formula, if any, could have lasting, dangerous effects. More studies need to be done in order verify if there is a link.
"That day I stopped smoking, and that day I started vaping," Wheeler said.
Since then, he's felt his health improve significantly.

"I'm not a doctor and I don't know what my body will look like in 20 years from vaping, but I can tell you today, my body is better because of it," Wheeler said. "I can breathe, I can play with my kids, I can run around with them. I wasn't able to do that when I was smoking."
Wheeler now owns JVapes along with his business partner, John Fisher. Founded in Prescott, the company develops, produces and sells e-liquid and related merchandise. Their first storefront opened in Prescott in 2012. They now have a location in Prescott Valley, Colorado Springs, Colorado, and Tulsa, Oklahoma.
Wheeler got into the e-cigarette industry right as it was picking up speed. Commonly referred to as vaping, the action of inhaling vaper from battery-powered electronic devices has become tremendously popular throughout the country.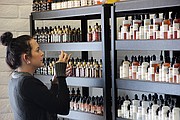 So popular, in fact, that it's caught the attention of the federal government after several years of regulation-free production and distribution.
Effective August 8, 2016, the U.S. Food and Drug Administration (FDA) finalized a rule to regulate all tobacco products, including e-cigarettes, cigars, and hookah and pipe tobacco, as part of its goal to improve public health.
Just for clarification, the liquid, or e-juice, used for vaping does not contain actual tobacco. Not all of it even contains nicotine.
While some e-juice may contain up to about 18 milligrams of nicotine — the equivalent found in about one-to-two cigarettes depending on the brand — some varieties contain none at all, and are instead just flavored oils.
The primary ingredients found in e-juice are vegetable glycerin, propylene glycol, water, food flavoring and nicotine if added.
Nonetheless, the FDA believed it necessary to begin regulating the substance as strictly as it does regular cigarettes.
Drew Williams, the FDA regulation specialist at JVapes, said in some ways e-cigarettes are being treated even harsher than tobacco cigarettes right now.
Legal purchase age going up around country
The federal government isn't the only entity going after e-cigarettes. States and individual cities have had some success in passing regulatory measures as well.
As of Dec. 6, at least 200 localities have raised the minimum legal sale age for tobacco products to 21, according to the Campaign for Tobacco-Free Kids.
In May, Cottonwood became one of those localities.
In Cottonwood's case, nicotine alternatives and vapor products such as e-cigarettes were included in the decision.
The municipality remains the first and only to take such measures in the state. However, that may not be the case for much longer.
Jen Mabery, a Health Educator with Yavapai County Community Health Services said she's been working with the local anti-tobacco group that successfully lobbied the Cottonwood City Council, and that they're already working on spreading that decision to neighboring municipalities.
"We're going Tuesday (Dec. 13) to hear a vote for the town of Clarksdale," Mabery said.
Wheeler said he's not surprised to hear this.
"I think it's going to eventually be 21 across the country," Wheeler said. "I think that's kind of where we're at."
The reason being that since e-cigarettes are such a new product to the market, it's subject to regulation standards only recently passed that tobacco companies don't need to comply with because they are grandfathered in.
"Any cigarette ever made up to 2007 doesn't have to go through the pre-market tobacco application process," Williams said.
"So essentially cigarettes are getting a pass on pre-market tobacco applications and we're not."
These applications require full reports of all investigations of health risks for a given product, a full description of methods of manufacturing and processing, and several other extensive reports.
The e-cigarette industry is currently in a legal battle with the FDA to undo some of these newly instilled regulatory measures.
Of particular concern by the FDA regarding e-cigarettes are the reported rates of use by youths and young adults.
A recent report released by the U.S. Surgeon General found that in 2015, about 1 in 6 high school students used an e-cigarette in the past month.
Though very little research has been done to identify what the potential harmful effects of consistent e-cigarette use is to the body, the report did state that nicotine use, especially at a young age, is harmful. It also stated that secondhand aerosol exhaled by e-cigarette users can expose others to potentially harmful chemicals.
"All Americans need to know that e-cigarettes are dangerous to youth and young adults," said U.S. Surgeon General Dr. Vivek H. Murthy, in releasing the report. "Any tobacco use, including e-cigarettes, is a health threat, particularly to young people."
More like this story
SUBMIT FEEDBACK
Click Below to:
This Week's Circulars
To view money-saving ads...