Road 1 South showcasing with young musicians
Originally Published: December 8, 2016 8:36 p.m.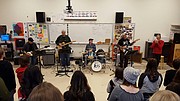 The Road 1 South blues band is both a fixture and a centerpiece act of the Acker Night Musical Showcase, and one of their hallmarks has become playing the shows with young musicians.
This year will continue the tradition, as the band teams with Bradshaw Mountain High School choir members for three shows at the Elks Theatre.
The students, 35 of them, from 10th through 12th grade, will sing both with the band and alone, said Amy Van Winkle, director of the Choral Union.
"We're learning a lot about reading charts (sheet music, in jazz terminology), and kind of using our ears to make up harmonies," she said. It's a "different grove," with a "different feel."
They've rehearsed with the band, learning how Road 1 South works together, and then "adding some flair of our own to that," she said
John Wurtz, the band's guitarist, work for Humboldt Unified School District, and brought the band and the students together.
"Last year, we had the horn section from Prescott High School come out, and play with us, and we were kind of thinking, 'What can we do that we haven't done?'" Wurtz said.
He wrote the arrangements for the songs the choir will do with the band.
Wurtz said the process of blending a six-piece jazz band with 35 voices "is definitely a change," but the rehearsals "went a lot better than I thought it was going to—when you've got that many people together, I was afraid it was going to be difficult."
He pointed out that the band has learned as much as the students.
The three shows will start at 6, 7 and 8 p.m. at the Elks Theatre, 117 E. Gurley St.
"It's been really fun," Van Winkle said.
More like this story
SUBMIT FEEDBACK
Click Below to:
This Week's Circulars
To view money-saving ads...