Police find mushroom lab; Cattletrack reopened
The Daily Courier
Originally Published: December 8, 2016 1:19 p.m.
Updated as of Thursday, December 8, 2016 4:05 PM
UPDATE: At 10:05 pm on Thursday, Dec. 8, Cattletrack Drive is now open.
PRESCOTT VALLEY – Officers responding to a report of suspicious activity at a house in the 6500 block of Cattletrack Drive Thursday morning, Dec. 8, ended up evacuating the house when an officer's eyes and skin began to burn.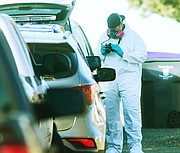 The officers saw several suspicious objects, including drug paraphernalia and a gun before they had to get out.
A perimeter was set up surrounding the area and hazardous materials crews investigated until around 3 p.m. The road was closed between Powers and Spanish Moss.
The Partners Against Narcotics Trafficking (PANT) multiagency task force took over the investigation in the late afternoon.
Police determined that a psilocybin (otherwise known as psychedelic) mushroom laboratory was in the residence.
As a precaution, officials at Coyote Springs Elementary School were asked to keep the students inside during recess. School representatives posted the following on Facebook for parents: "Coyote Springs Elementary is currently on a 'lockout' at the request of the Prescott Valley Police Department … A lockout is called when there is threat or hazard outside of the school building. A lockout uses the security of the school facility to protect students and staff from a threat. During a lockout, school business will resume as usual from within the locked facility."
No arrests have been made and the investigation continues.
About the mushrooms
How do you take them: Psilocybin mushrooms are ingested orally. They may be brewed as a tea or added to other foods to mask their bitter flavor. Some users coat the mushrooms with chocolate — this both masks the flavor and disguises the mushrooms as candy.
Risks: Use of psilocybin is associated with negative physical and psychological consequences. The physical effects, which appear within 20 minutes of ingestion and last approximately 6 hours, include nausea, vomiting, muscle weakness, drowsiness, and lack of coordination. While there is no evidence that users may become physically dependent on psilocybin, tolerance for the drug does develop when it is ingested continuously over a short period of time.
The psychological consequences of psilocybin use include hallucinations and an inability to discern fantasy from reality.
Panic reactions and psychosis also may occur, particularly if a user ingests a large dose.
In addition to the risks associated with ingestion of psilocybin, individuals who seek to abuse psilocybin mushrooms also risk poisoning if one of the many varieties of poisonous mushrooms is incorrectly identified as a psilocybin mushroom.
More like this story
SUBMIT FEEDBACK
Click Below to: