Badgers overcome 12-point halftime deficit in 64-61 win over Cactus (PHOTO GALLERY)
Late buckets by Jones, Parsons seal come-from-behind victory

Originally Published: December 7, 2016 6:03 a.m.
Photo Gallery
PHS vs Cactus Boys Basketball 120616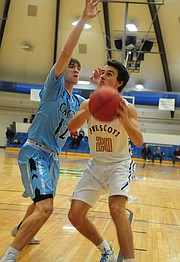 PRESCOTT — Kody Jones scored eight points, grabbed 10 rebounds and dished out five assists, Cameron Parsons scored all 10 of his points in the fourth quarter and the Prescott boys' basketball team overcame a 12-point halftime deficit in a thrilling 64-61 win over Cactus on Tuesday night.
Jones' jumper off a shot fake inside the lane from about 8 feet gave the Badgers their first lead of the night, 58-56, with 2:23 to go and they never trailed again.
Another layup by Jones at the 1:32 mark extended Prescott's lead to 62-56, capping a 34-16 second-half run for the Badgers, which won despite surrendering 10 Cactus 3-pointers and committing 20 turnovers.
"The word of the night for us was perseverance," Prescott head coach Adam Neely said, adding his club struggled to "deny" the ball in the first half when the Cobras (2-5) hit seven 3-pointers.
"We talked about it at halftime and did a better job, but I still think we gave up too many looks in my opinion," Neely said. "I believe we need to work harder in that first half."
Jones, a junior, said he was able to make those last few buckets due to his teammates having good spacing on the court offensively late in the game.
"When we spread the floor, a different guy gets a look and tonight I just happened to be the guy," Jones said, adding the Badgers went into the first quarter with a "bad mindset," playing not to lose instead of just playing to win.
"The second half, Neely said we needed to buckle down, close out and contest, and if we do that [Cactus] won't hit as many," Jones said. "It worked."
Parsons, whose bucket with 4 seconds left gave Prescott a three-point lead, 64-61, said the Badgers pulled out the win because they "slowed it down."
"We committed less turnovers and crashed the boards more," Parsons said. "We didn't give them as many second opportunities. … We stayed composed, and eventually their shots stopped falling and ours started falling. Everything worked itself out."
As a team, Prescott shot 52 percent from the field (28 of 54), but were just 12 of 29 in the first half. The Badgers hit 7 of 11 from the free-throw line and outrebounded the Cobras 34 to 23, including nine offensive rebounds.
"The biggest difference in the second half was we gave up too many second-chance points. We didn't rebound the ball as well in the second half," fifth-year Cactus head coach Dirk Walker said, adding his club struggled in the second half shooting the ball.
"We got the same looks, we just didn't hit them. Yeah, we didn't shoot it as well, but I'm more disappointed in our defensive effort in the second half," Walker said.
Other standouts for Prescott included Jesse Regalado with 14 points, while Paxton Henry scored eight points and grabbed seven rebounds.
NEXT UP
Prescott (7-1, 0-0 4A-Grand Canyon) travels over the mountain Friday, Dec. 9, to open Grand Canyon region play against Mingus. The Marauders (2-7) lost 80-79 to Mohave on Monday.
Tipoff in Cottonwood is scheduled for 7 p.m.
Brian M. Bergner Jr. is a sports writer and columnist for The Daily Courier. Follow him on Twitter, Instagram, Periscope and SoundCloud at @SportsWriter52, or on Facebook at @SportsAboveTheFold. Reach him by phone at 928-445-3333, ext. 1106.
More like this story
SUBMIT FEEDBACK
Click Below to:
This Week's Circulars
To view money-saving ads...