Local Rundown: Bears shut out on home turf; Bradshaw to play rival Prescott in tourney finale
By
Doug Cook
|
dougout_dc
Originally Published: December 4, 2016 6 a.m.
Photo Gallery
BMHS vs Willow Canyon Boys Soccer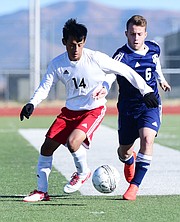 PRESCOTT VALLEY — Bradshaw Mountain High's boys' soccer team was shut out by Willow Canyon, 2-0, in the pool-play finals Wednesday, Nov. 30, and will face rival Prescott to end the Bradshaw Mountain Invitational this weekend.
The Bears finished Pool A with a 1-2 record, while Prescott ended Pool B play with a 1-1-1 mark. The Badgers were blanked by Estrella Foothills, 2-0, on Wednesday.
Bradshaw will battle Prescott at noon Saturday at Mountain Valley Park in Prescott Valley.
On Wednesday for the Bears, defender/striker Isaac Gomez and midfielder/striker Schyler Cohan stood out against Willow Canyon, coach Craig Hacker said.
"Schyler covered serious miles today and played very well," the coach added. "Unfortunately, we couldn't connect [for scores]."
On Monday, Cohan registered the Bears' lone goal in a 5-1 loss to Camelback. In Bradshaw's 4-1 win over NFL YET, Eddie Vasquez scored two goals, and Ricky Ayala and Geronimo Sotelo added a goal apiece for the hosts.
The Bears were down five starters on Monday and began their first match slowly against Camelback, trailing 3-0 at one point. Hacker remains confident in his boys this season, though.
"So far I am pleased with the performance of the team," Hacker said in a phone interview.
Cesar Chavez will take on Camelback for the tournament championship at 3 p.m. Saturday at Bradshaw Mountain High's Pavlich Field.
PREP WRESTLING
Badgers grapplers succumb to Show Low in tight match
PRESCOTT — Prescott High's wrestling team suffered its first loss of the 2016-17 season on Wednesday, Nov. 30, taking it on the chin to Show Low, 42-36, in a tight match at the PHS Dome Gym.
"The guys just made some small mistakes and we ran into some studs," first-year Prescott coach Max Payne said.
Registering pins for the Badgers on Wednesday were 113-pounder Colton Tomitz, 132-pounder Andrew Salberg, 182-pounder John Dwyer and heavyweight Gavin Nelson.
Flagstaff Coconino was supposed to wrestle at the scheduled multiple but could not attend, Payne added.
Prescott, champion of last weekend's Yavapai County Duals, will head to the Wade Hendershott Peaks Invitational this Friday, Dec. 2, at Flagstaff High School.
Chino Valley goes 2-0 at Blue Ridge Multiple
LAKESIDE — Fresh off a runner-up finish at the Yavapai County Duals last weekend, Chino Valley High's wrestling team defeated host Blue Ridge, 60-18, and Holbrook, 48-36, at the Blue Ridge Multiple on Wednesday, Nov. 30.
Going undefeated on Wednesday for the Cougars were 113-pounder Wade Payne, 126-pounder Austin Ehlert, 138-pounder Kyle Lund, 145-pounder Keller Rock and 160-pounder Clay Stephenson.
Rock, a freshman standout, owns a 6-0 record for Chino Valley, which now has a 5-1 overall team mark in dual matches.
Chino will compete at the Wickenburg Invitational this Friday and Saturday, Dec. 2 and 3.
Follow Doug Cook on Twitter @dougout_dc. Reach him at 928-445-3333 ext. 2039, or 928-642-7865.
More like this story
SUBMIT FEEDBACK
Click Below to: