Chew on This: Coppertop Alehouse

By
Max Efrein
|
mefrein
Originally Published: December 4, 2016 6:48 a.m.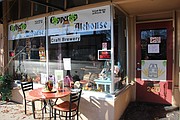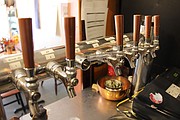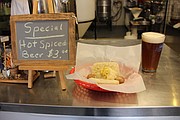 Essentials
What: Coppertop Alehouse
Where: 220 S. Montezuma St., Prescott
Contact: 928-351-7712
Coppertop Alehouse is the new brewery on the block.
The Eurpean-style microbrewery and bistro neighbors Far From Folsom along South Montezuma Street, serving as a quaint addition to the already flush beer and spirits scene of downtown Prescott.
Some may claim that Prescott's historic Whiskey Row ends at the intersection of Goodwin and Montezuma Streets, but Coppertop's owner, Scott Whitney, said that is a complete misrepresentation.
"This is part of Whiskey Row and always has been," Whitney said, referencing information published in the book Prescott's Original Whiskey Row. "There were saloons here, there were breweries here; it stretched to at least Carleton Street, maybe even a little further."
Whitney is proud to now be a part of this historic legacy, clearly promoting the image with photos taken in the 1800s of storefronts that existed on or near the property he is leasing.
The rest of the interior is reminiscent of a casual European brewpub. Whitney's attempt is to make it feel what German's call gemutlich.
"There is no proper English translation for gemutlich, but it basically means cozy and almost romantic, but not in a boy/girl way," Whitney said.
Unlike most breweries in town, the actual brewing at Coppertop takes place right behind the cash register rather than in a backroom or off-site production facility.
"We just really want to bring people into the brewing process," Whitney said. "So you could come in at 10 a.m. in the morning, have coffee and here we are racking something off, working with a big vat of something, filling kegs or actually doing the brewing process."
Whitney said there will always be about five to seven types of beer on tap — all homebrewed.
For their grand opening, they offered a pilsner, pale ale, blonde ale, weizen, Belgian double and Russian imperial stout.
All of the beers are served in pints and cost customers $5 flat. This even includes the stout, which has a 9 percent alcohol content.
A special alcoholic beverage he intends to offer for the winter season is a hot spiced beer. Rather than using red wine to create a traditional mulled wine, where red wine is heated along with a number of spices like clove, cinnamon and orange, Whitney is using his Russian imperial stout.
"As far as I know, nobody is doing this around here," Whitney said.
Though Whitney said it will expand slightly, the food menu currently has about six items on it, including a bratwurst with sauerkraut, a soft pretzel with aged cheddar cheese beer sauce and a cold cut sandwich.
Abiding by European rules, Coppertop is a non-tipping establishment.
"So $5 is $5, tax included," Whitney said. "Two people can come in on a date, so to speak, have a beer each, have a bratwurst each, and it's a $20 bill."
There is a tip jar available for those who insist on tipping, but all of the money goes to a local nonprofit organization of Whitney's choice.
More like this story
SUBMIT FEEDBACK
Click Below to: