Building or remodeling in Prescott? Fees and rules need close scrutiny

By
Max Efrein
|
mefrein
Originally Published: December 4, 2016 6:02 a.m.
Editor's note: This is the first in an occasional series looking at the cost of building permits and the rules for remodeling and new construction. In an upcoming segment, we'll look at the differences in permit costs between Prescott and Prescott Valley. You might be surprised ...
Anyone looking to construct a new building or remodel an existing one in Prescott typically must answer to city officials with time and money.
The total building permit cost for an average 2,500 square foot home in Prescott is currently about $10,000, said Randy Pluimer, Building Official for the City of Prescott.
DID YOU KNOW?
Remodels:
Whether it's residential or non-residential, remodeling a structure is a slightly different animal compared to building from scratch. Some actions require a permit from the city while others do not.
Examples of permit-exempt items:
• Painting
• Plumbing fixture replacement
• Flooring replacement
• Receptacle/switch replacement
• Fences under 4 feet (site planning approval required)
• Decks less than 30 inches above grade and less than 100 square feet surface (site plan approval required and not within the wildland/urban interface)
• Sheds under 120 square feet & within setback requirements
Examples of items requiring building permits:
• Carports
• Fences over 4 feet
• Covered patios
• Replacement of roofing materials
• Window replacement
• Water heater installation
In a kitchen, for example, if the cupboards and sinks are torn out and replaced with new ones, no permit is required.
But the moment someone wants to add a dishwasher or some track lighting, then a permit is required.
Of that $10,000, about $2,500 is for the actual permit while the remainder is made up of development impact fees, Pluimer said. The categories of development impact fees are fire and emergency medical services (EMS), police, streets, water system, water resources and wastewater system.
"Impact fees are anything that impact the system," Pluimer said.
Just a few years ago, impact fees were much higher, bringing the total building permit cost closer to $17,000, Pluimer said.

The significant decrease was due to a decision made by the state legislature in 2011 to dramatically curb cities' authority over impact fees by 2014.
"We lowered some impact fees and dropped others altogether," Pluimer said.
When the state law changed, it essentially said that unless the infrastructure being built for a new development directly benefits the occupant of said development, then that occupant shouldn't have to pay for it.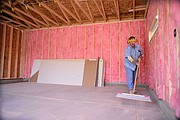 In response, the city created nine water and 10 wastewater service areas within its borders. These service areas can overlap. The more service areas a parcel falls within, typically the higher the impact fees the owner of that parcel will face.
Frequently Asked Questions from the Prescott City website:
Q. Are permits required to replace electrical or plumbing?
A. NO: If only minor repairs such as replacing a light fixture, outlet, toilet or faucet, or fixing a leak.
YES: If any new wiring or plumbing pipe is extended or installed.
Q. Can the Owner do the work?
A. YES: If it is a residential building and the owner lives there, he or she can do all the work as long as it complies with code. If it is commercial, the owner can do general work (framing, drywall, and concrete) only if he or she is going to be the only person to occupy or be in the building.
NO: If it is a commercial building a State-licensed contractor is required for all work when the public or employees will visit, occupy or be in the building.
Q. Why do I need a permit?
A. A permit ensures that the City Building Inspection Division will inspect the work. The inspector may discover faulty materials, deviations from the approved plans or violations of the building codes and land use codes that may result in an unsafe or hazardous condition for you or your family. It is a violation of City ordinance not to have a permit when work being done requires one. Failure to obtain a permit may result in an investigation fee being added to the cost of the permit and/or may result in prosecution in city court.
Q. Is a permit required to install or replace a water heater?
A. Yes, There are several safety related issues the inspector will check for. These include the expansion tank, temperature/pressure relief valve, combustion air for gas appliances, and, if installed in a garage, the proper height above the floor.
Q. Is a building permit required for window replacement?
A. The replacement of glass in hazardous locations and glass required to be fire-rated requires a building permit. In addition, a building permit is required if an entire window assembly is being replaced. A building permit is not required for the replacement of glass panes.
"Depending on where you build in the city, impact fees can vary quite a bit," said Gwen Rowitsch, an analyst in the city's public works department during a recent public seminar hosted by the city to present how the city does business and what its fees are.
To help people determine how much the impact fee is for a given parcel, the city created an impact fee estimator on its website (http://bit.ly/2gRnSUJ).
Though it is common for fees to be adjusted over time due to variables such as inflation and changes in the way business is conducted, Rowitsch made clear during the seminar that the city is not in the business of making money.
"When we provide a service, we have to recover that cost so that the individual rate payers are not paying for that," Rowitsch said.
Brian Bombardieri, owner of B's Contractors, understands this.
"The fees are the fees," Bombardieri said.
What he doesn't understand is why certain federal standards are enforced in states like Arizona where they aren't as applicable as they are in other parts of the country.
His most recent encounter with this issue was during a renovation of a downtown Prescott building in spring for an incoming business.
The regulation he bumped into had to do with flood protection measures for new or substantially improved structures.
The City of Prescott participates in the National Flood Insurance Program (NFIP). By doing so, it agrees to adopt and enforce ordinances that meet or exceed Federal Emergency Management Agency (FEMA) requirements to reduce the risk of flooding. Congress has also mandated federally regulated or insured lenders to require flood insurance on properties that are located in areas at high risk of flooding.
Because Bombardieri was substantially improving an existing structure for the business and the building is mapped as being within the city's floodplain, it had to get an elevation certificate as required by the NFIP.
The survey found that the building was below the base flood elevation, meaning it was at risk of getting flooded.
By FEMA standards, flood-proofing measures were required to protect the building.
What resulted was Bombardieri having to install a $20,000 manual flood door the business can use if at risk of being flooded.
This seemed a bit outrageous to Bombardieri.
"Back east it's great, because they have time to predict that there will be flooding days ahead of time and put those doors in place," he said. "Whereas here, we're going to get an inch of rain in the Bradshaws, it's going to flood and it's going to be gone in 15 minutes whether the building filled up with water or not. They're not taking into account the geography of the whole country."
His concern is that by requiring any business that wants to improve a structure or build a new one in downtown to spend $20,000 on something they may never actually use could be enough to scare people from doing business in Prescott.
"I just don't want to see us running people out of here," Bombardieri said.
Steve Orosz, program development manager for the Prescott Public Works Department, answered Bombardieri's concern during the seminar by saying that requiring businesses like the one Bombardieri was working to have an elevation certificate and to be flood proof improves the flood insurance rating for the entire Prescott community.
"The better documentation we have, the better the rating, which means there are lower insurance premiums," Orosz said. "We could throw all of that aside and say do whatever you want, but if we do, your insurance premiums are going to be huge, and we're trying to keep those as low as possible."
"Well it seems like to get a better rating we're putting the burden on the backs of anybody who wants to go downtown and attempt to improve a building," Bombardieri responded. "We're making them spend, like I said, $20,000 to buy these flood doors to meet a requirement by the federal government. The doors are never going to get installed."
Henry Hash, director of public works for the City of Prescott, addressed the issue as well during the seminar, saying he understands the concern, but until the law changes on the state or federal end, there is not much the city can do.
"Do we agree with all of the regulations that come out of Washington? Absolutely we don't. Do we have a say in all of it, we really don't," Hash said.
Acquiring a building permit
The process for acquiring a building permit is typically as follows:
Whoever is building a new structure submits two sets of plans. The plans must have everything on them from how the building lays out on the site to its structural components.
Once submitted, the city's stated goal for review is three weeks. Within that three weeks, the plans are passed through all of the required departments, which can be as many as 12, Pluimer said.
After the three weeks, the city will either say the permit is ready to issue or provide the builder with a list of corrections that need to be made before final approval.
When a builder submits corrected plans, the city aims to finish the approval within one week.
For builders constructing model homes, this whole process usually only takes about two weeks because the plans are typically identical to those that have already been approved in the past, Pluimer said.
Throughout the entire construction process of a new development, an average house will be inspected 12 to 15 times by city officials, Pluimer said.
Anytime someone is unsure whether or not a permit is required for a remodel project or has any other related questions, Pluimer recommends calling the city's building division at 777-1356 or going to the city's permit counter in person.
"With remodels, people oftentimes don't know what they're getting into," Pluimer said.
A common scenario Pluimer points to is, say, a contractor goes to replace a water heater only to find out that it has been leaking and causing surrounding materials to deteriorate.
"Things go very big from a simple water heater change-out to all of a sudden they have to replace a wall," Pluimer said.
No matter what the job, Pluimer said it is critical to get more than one bid.
"Never, ever, ever, ever, go with the first bid," Pluimer. "Always get multiple bids on everything."
More like this story
SUBMIT FEEDBACK
Click Below to:
This Week's Circulars
To view money-saving ads...