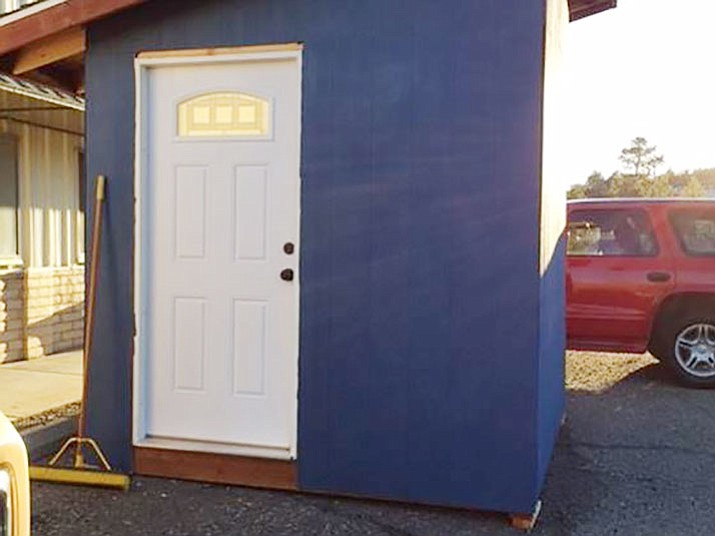 Originally Published: December 1, 2016 6:01 a.m.
The search for solutions to homelessness in Prescott has sparked a new endeavor that, while temporary, is touted to offer men and women with limited housing options a chance to enjoy their own slice of dignity: a 200-square-foot, no-frills "SAFE sleeper" cottage.
The United Way of Yavapai County has teamed up with the Coalition for Compassion and Justice, and a group of volunteer miners in Bagdad, to offer the area's homeless an independent alternative to CCJ's Safe Legal Sleep project, an emergency shelter program launched this summer.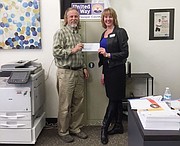 Safe Legal Sleep was initially an outdoor shelter on the grounds of CCJ's thrift store on Fair Street in Prescott. A local benefactor, Howard Mechanic, in October made possible an indoor shelter facility off of Miller Valley Road, a two-story structure CCJ hopes will eventually become the hub of all of its programs, a true social justice center. The downstairs shelter portion opened three weeks ago, offering "safe, legal sleep" to some 50 homeless men and women. CCJ has hired four, new part-time employees to manage the shelter.
But CCJ and its non-profit partners have stated all along the emergency shelter is a temporary fix.
What these agency leaders want for their clientele is affordable rental housing that gives them a home base while they seek help with other issues related to their homelessness: employment, medical and mental health assistance, as well as programs to assist those with substance abuse issues. The dilemma is that rental housing in Prescott is at a premium; with less than 2 percent availability most landlords are more likely to select tenants who, unlike the homeless clientele, have no credit blemishes, criminal background or a need for ongoing social service supports, they said.
The challenge has been to find "creative solutions" until more permanent housing becomes available, leaders said.
Across the nation, the "Tiny Home" movement has been viewed as one of those solutions. Some metropolitan cities have created "Tiny Home" villages for the disenfranchised.
With that notion in mind, United Way Executive Director Annette Olson was at a community meeting in Bagdad about three weeks ago that sparked the idea for what CCJ Executive Director Paul Mitchell describes as tiny, safe sleeper "cottages." One of the engineers with the Bagdad mining company, Freeport-McMoran Inc., talked of meeting with Mitchell about the possibility of these wooden, slope-roofed structures with a door and window but no indoor plumbing. The cottages must be located on properties – local church congregations are now being approached about space – with access to plumbing facilities, or at least places willing to allow a portable toilet.
From that meeting, the United Way opted to commission the very first one; pledging $1,500 for the materials, Olson said. The United Way, too, initiated a YouCaring fundraising drive to encourage other organizations, including churches and social service agencies, donors and businesses to make similar donations. A crew of Bagdad miners have volunteered their labor.
Olson's intention is to collect enough money to build at least 10 in the coming months.
"I think it is our responsibility to support solid, affordable effective solutions … this is what we do," Olson said of the anti-poverty focused agency.
Olson, too, sees herself as a liaison between the non-profit and for-profit sectors of the community, able to showcase efforts in the community that local businesses and corporations might determine fit their philanthropic giving goals.
Mitchell said he is pleased to have recruited another advocate for their mission, and though there are still a lot of details to be worked out related to this project, he is proud to see outside-the-box momentum building to make a difference for those he and others agree deserve a second chance.
From the Safe Legal Sleep project, Mitchell has seen individuals able to find and keep steady jobs because they know they have a place they can go to lay their head at night.
For the homeless to become stable, they need a place to call home, Mitchell said. These cottages may not be a forever home, but they are a step toward the stability so many crave, he said.
"This is Safe Legal Sleep on steroids," Mitchell said.
More like this story