Incumbents apparent winners in Supes races
Originally Published: August 31, 2016 6 a.m.
PRESCOTT – Three Republican incumbents in the race for the Yavapai County Board of Supervisors appeared to keep their seats in the Tuesday, Aug. 30, Primary Election, with two leading by wide margins over their challengers and a third by a tight margin.
Photo Gallery
Primary Election 2016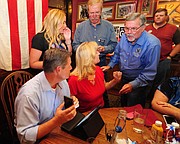 Though Tuesday's contest was officially a primary, because they had no opponents from other parties, should their leads hold, winners in the Republican primary will, by default, take the seats.
In District 1, incumbent Supervisor Rowle Simmons led challenger Mary Beth Hrin, 54 percent to 46 percent, or 3,219 to 2,796, as of the 9:46 p.m. update from the Elections Department.
"I'm real excited, I knew I had a lot of support," Simmons said. "I'm 69. This my last go-round, I figure I'll go out on top."
In District 4, incumbent Craig Brown beat Marla Festenese 63 percent to 37 percent, 3,554 to 2,090.
Brown declared victory just after 8 p.m., when the early ballot results were released.
"I'm going to declare victory – victory over the nonsense," Brown said. "Victory over people who should not be running, who are not qualified. Never should be running."
"I think that's disgusting," Festenese said. "He has no right to say that. Anybody has the right to run. I think I'm very well qualified, and I would expect more from somebody that wants to call themselves a leader."
Brown added that he had "told everyone" that he would run for only two terms, and this will be his second.
In District 5, current board chairman Jack Smith came out ahead of two challengers, but it was a closer race: Smith had 40 percent of the vote to Steve Irwin's 35 percent and Harold Wise at 25 percent.

Smith said, "We're going to move forward, we've got a lot of work to do. We've got to talk about the (possible new) jail … We're going to work on our budget to make it as lean as possible."
Asked if there was still room for further cuts in the county budget, he said, "I think there's always room for adjustments in the budget, yeah. I think we can still find some cuts," mentioning travel specifically.
In the three races, one precinct's results remained to be tabulated. County officials were unavailable before press time Tuesday night to say how many ballots remain.
More like this story
SUBMIT FEEDBACK
Click Below to: