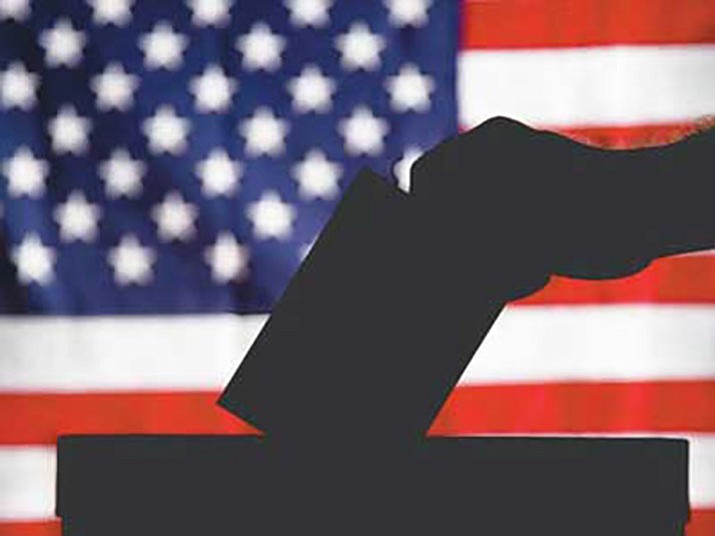 Originally Published: August 30, 2016 5:02 a.m.
Yavapai County Recorder Leslie Hoffman has announced the vote centers for today's, Aug. 30, Primary Election. All eligible Yavapai County voters may vote at any one of the following 29 vote centers:
• Yavapai County Admin. Building, 1015 Fair St.
• Prescott Gateway Mall, Community Center Room 3250 Gateway Blvd.
• Central Fire Station #57, 4125 Outer Loop Road
• Yavapai College, Community Room, 1100 E. Sheldon Street, Bldg. 19
• Prescott Community Center, 1280 E. Rosser St.
• Trinity Presbyterian Church, 630 Park Ave.
• Prescott Valley Event Center, 3201 N. Main St.
• Robert Road Baptist Church, 5100 N. Robert Road
• Central Yavapai Regional Training Center, 9601 E. Valley Road
• Prescott Valley Gateway Baptist Church, 12900 Prescott Dells Ranch Road
• Chino Valley United Methodist Church, 735 E. Road 1 South
• First Southern Baptist Church, 1524 N. Highway 89, Chino Valley
• Clark Memorial Clubhouse, 19 N. Ninth Street, Clarkdale
• Yavapai County Cottonwood Annex, 10 S. 6th St.
• Cottonwood Bible Church, 1020 S. Camino Real
• Immaculate Conception Catholic Church, 700 N. Bill Gray Road, Cottonwood
• Sedona Elks Lodge #2291, 110 Airport Road
• VOCA Community Center, 690 Bell Rock Boulevards, Sedona
• Camp Verde United Methodist Church, 480 S. 1st St.
• Beaver Creek Adult Center, 4250 E. Zuni Way, Lake Montezuma
• Albins Civic Center, 19055 E. K-Mine Road, Black Canyon City
• Ash Fork Public Library, 450 W. Lewis Ave.
• Bagdad American Legion Post #104, 121 Main St.
• Grace Bible Church, 25605 Ghost Town Road, Congress
• Cordes Lakes Community Center, 16357 S. Cordes Lakes Drive
• Skull Valley Community Hall, 110 S. Old Skull Valley Road
• Mayer Recreation Center, 10001 Wicks Ave.
• Seligman Library, 54170 N. Floyd St.
• Yarnell Presbyterian Church, 16455 Table Top Way.
If you have not yet mailed your early ballot, please use one of the following ballot drop box locations:
• Camp Verde Town Hall, 473 S. Main St.
• Yavapai-Apache Nation Community Center, 3462 Smith Ave., Camp Verde
• Chino Valley Town Hall, 202 N. Highway 89
• Clarkdale Town Hall, 39 N. 9th St.
• County Admin. Building,10 S. 6th St., Cottonwood
• Dewey-Humboldt Town Hall, 2735 S. Highway 69
• Jerome Town Hall, 600 Clark St.
• County Admin. Building, 1015 Fair St., Prescott
• Prescott Valley Civic Center, 7501 Civic Circle
• Sedona City Hall, 102 Roadrunner Dr.
All early ballots must be dropped off at the Yavapai County Recorder's Office or any Yavapai County Vote Center no later than 7 p.m. today. Do not mail in your ballot. Late ballots will not be tabulated. Be sure to sign your affidavit envelope in your original handwriting.
For information, visit www.yavapai.us/electionsvr.
Related Stories