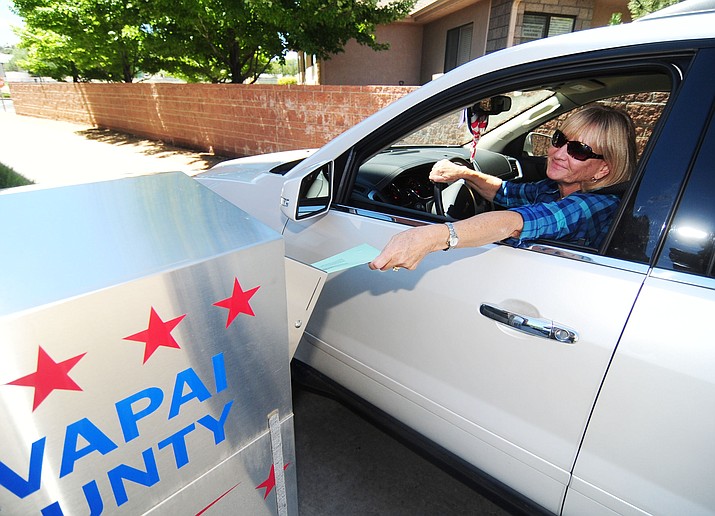 Photo by Les Stukenberg.

Originally Published: August 30, 2016 6:02 a.m.
Running for public office often comes down to getting one's name before the public as much as possible leading up to Election Day. It takes a certain amount of money to do this and fundraising is essential to a successful campaign. Candidates have filed their finance reports through Aug. 18, and will have one more report to file for contributions and expenditures from Aug. 19 through Sept. 19.
Following are comparisons in the races for districts 1, 4 and 5 for the Yavapai County Board of Supervisors; District 2 is uncontested and District 3 encompasses the Verde Valley.
Where does campaign money go?
Advertising is the biggest expense for candidates – banners, signs, television, print, radio, web design, and advertising consultants. Food for fundraisers, breakfasts, luncheons, and supplies add up, too, according to campaign finance reports filed Friday, Aug. 26.
CableOne Advertising reaped the most benefit from Judd Simmons' campaign to the tune of $24,274. Helken and Horn Advertising received $14,764 from Judd Simmons and another $3,203 from Rowle Simmons.
Yavapai Broadcasting earned advertising fees of $4,145; Arizona Hometown, $5,808; KYCA/Southwest Broadcasting, $11,111; U.S. Postal Service, $13,389; newspapers, including The Daily Courier, Yellow Sheet, Lonesome Valley and Quad City Business News, $7,491. Sign companies and printing businesses, $9,495, with EMI Printworks alone making $17,362.
Then there are the fundraiser supplies, food, room rental and entry fees – much of which was paid in in-kind contributions. A campaign rally for Craig Brown at Manzanita Grill cost $1,296.
District 1
Incumbent Rowle Simmons received contributions totaling $15,493, of which $4,593 remains unspent. His biggest single donation ($5,000) is from Nancy O'Brien, co-owner of the former Hooligan's Pub. O'Brien gave an additional $1,600 in July. Simmons also lists $1,000 from Jim Lee, $1,000 from Stephen Rutherford, and $600 from Don Biele.
The rest of his contributions are each made up of $250 or less, and include Steve Sischka, Prescott City Councilmember, $200; Gary Ballard, $200; L.D. Fraijo, former Prescott Fire chief, $100; Clark Tenney, Abia Judd Elementary School principal, $50.
Challenger Mary Beth Hrin reports taking in $10,226 with $4,380 left unspent. Her biggest contributors were Stephen Hrin, $2,500; State Rep. Noel Campbell, $1,000; and Doyar, Inc., $1,000.
Notable contributors include Prescott Mayor Harry Oberg, $500; Jeri Smith Fornara, $760; candidate for District 1 state representative, David Stringer, $200; County Assessor Pam Pearsall, $100; and former Prescott City Councilmember Chris Kuknyo, $50.
District 4
Incumbent Craig Brown raised $14,087 for his campaign and has $1,412 left unspent. Most of his contributors gave between $100 and $250, with a larger contribution of $500 from Buz and Sonja Mills, owners of Gunsite. He claims a total of $2,240 in contributions from unnamed individuals donating $50 or less, and he has loaned his campaign $3,500, reimbursing himself $1,157.
Notable contributors include: Yavapai County Supervisor Chip Davis, $200; Sheriff Scott Mascher, $100; former sheriff Steve Waugh, $100; former Prescott Fire chief Dan Fraijo, $100; and State Rep. Karen Fann, $100. Brown spent $2,500 to challenge his opponent's petitions.
Challenger Marla Festenese financed most of her campaign, expending about $2,355 of her own money. She raised donations of $1,675 for a total of $4,030. Her biggest contributor was Brad DeSaye, owner of J&G Gun Sales with $1,000. Five other contributors donated between $75 and $200 each. Contributions of $50 or less totaled $265. She reports expenditures of $4,885. On Monday, Aug. 29, Yavapai County Elections Director Lynn Constabile said Festenese plans to file an amendment to her Pre-Primary Election Report.
District 5
Incumbent Jack Smith reports $8,722 in contributions, with $1,376 remaining unspent. His major contributors include Steve Rutherford, $1,000; Sue Rutherford with Trauma Intervention Program, $500; and David Hess, $500. Donations of $50 or less totaled $900, and he received $1,200 from Realtors of AZ Political Action Committee. Smith lent his campaign $2,051 and reimbursed himself $340 for mileage and another $983.
Challenger Steve Irwin raised $2,178, with $1,200 of that contributed by Realtors of Arizona, and $478 from Steve and Kim Irwin. He lent his campaign $500 and has repaid that loan. He reports $640 remaining unspent.
Challenger Harold Wise filed a $500 Threshold Exemption Statement. This means he is not required to file Campaign Finance Reports, but still must still keep track of all income and expenses. If he receives more than $500 in contributions or makes more than $500 in expenditures, he must file a Statement of Organization within five days.
Related Stories