Chino Valley claims Bronze Boot (VIDEO and PHOTOS GALLERY)

Originally Published: August 27, 2016 6:52 a.m.
CHINO VALLEY – Usually when you ask a coach or the quarterback if they just played the perfect game, they hedge no matter how dominating the score. There's always something to improve on, to get better at. Perfection is not meant to be achieved.
Photo Gallery
Chino Valley Vs Camp Verde Football 082616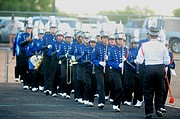 Chino Valley's coach and quarterback weren't going to go there. Asked if the host Cougars just played the perfect game after defeating Camp Verde 52-0 to open the football season.
"Yes, yes, it was a great feeling," Chino Valley head coach Wade Krug said.
"Yeah, there were a few parts that I could like work on, but it was pretty good," Chino Valley senior quarterback Josh Fisher said.
The Cougars claimed the Bronze Boot trophy that Camp Verde had won a year ago. The schools have played each other for years, but last year decided to formalize the rivalry by awarding the winner a Bronze Boot trophy. The Cowboys won last year's game, 26-12.
Chino Valley rushed for 262 yards and Camp Verde turned the ball over five times, including three straight times on three consecutive offensive plays in the third quarter.
The Cowboys were held to 41 yards rushing in the game.
"I don't know the last time we pitched a shutout, but defensively it was a great night," Krug said.
It was Chino Valley's first shutout since Sept. 17, 2010, when they defeated South Pointe 42-0.
"We flat beat ourselves tonight," Camp Verde head coach Steve Darby said. "You can't turn the ball over that many times. I don't want to take credit away from Chino, they got a good team this year and I wish them luck the rest of the season."
Fisher led Chino Valley on its opening drive, running the final 23 yards for a touchdown. He finished the game with 94 yards rushing, scoring two touchdowns, and added 60 yards passing and a score.
The defenses held the next three series and it looked to be a defensive game, but Camp Verde being forced to punt out of its end zone set Chino Valley up at the Camp Verde 22-yard line. Seven plays later Michael Paulus scored on a 1-yard run.
On Camp Verde's second play of the ensuing drive quarterback Payton Sarkesian tried to pass to Matt Newtown, but it was incomplete. However, the officials ruled it was a lateral. Chino Valley's Colton Sandberg picked up the ball and ran 26 yards for the touchdown and a 20-0 lead with 8:03 to play in the first half.
Chino Valley scored again on a Fisher to Gavin Thompson 18-yard touchdown pass with 16 seconds left in the half for a 27-0 lead, and they never looked back.
More like this story
SUBMIT FEEDBACK
Click Below to:
This Week's Circulars
To view money-saving ads...