Meet Your Neighbors: Victorian Estates fun for those 55 and older
Originally Published: August 26, 2016 6 a.m.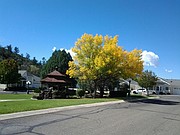 Our names are Dave & Sharon Heideman. We have lived in Victorian Estates, located in Prescott Valley, for three years.
We started out in Oregon. Moved to New Mexico until Dave finished retiring.
We decided we needed to upgrade our town and downsize our house. So, we started to look for a new place to live. We picked Prescott Valley/Prescott area because it was small and yet, had a 'country' feel to it. There were still plenty of shopping, forest, lakes, things to do and was very pretty with nice weather. Not too hot or too cold. We like the mountain feel of it.
We picked Victorian Estates because of its convenient location and because it was a smaller community. When we first drove through the gate we thought we had landed in Storybrooke Land. It is a gated 55+ community. We loved the very cute houses which are located in a terraced valley. Many people drive right by and do not realize we are even here. We also liked its location, which is very close to just about everything. We do have amenities like an outdoor pool, clubhouse with library, pool room, exercise room, media area, kitchen facilities, etc. We have a good HOA and Board of Directors. We have an Activities Committee that keeps all of us busy with things to do every month. And, if that isn't enough, there is cards, Dominoes, Bingo, Bunco and Game night. I would tell anyone getting ready to move to this area to check out Victorian Estates. The people are very welcoming, everyone is your neighbor, not just the people who live next door. When you live in Paradise, what more could you want?
Meet Your Neighbors is a twice-a-month glimpse into the area's communities. If you love your neighborhood and would like to share why, drop an email to Robin Layton at rlayton@prescottaz.com or call 445-3333, ext. 1095.
More like this story
SUBMIT FEEDBACK
Click Below to: