Editorial: Let them eat (food truck) cake
Originally Published: August 19, 2016 6 a.m.
Food trucks.
They seem to be a win-win situation for residents, tourists and business people.
Outside of Prescott food trucks are a common – and desired – fixture in many places.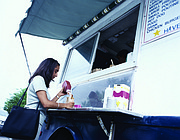 The subject definitely shouldn't be stirring up as much talk and hard feelings as it has been.
If brick-and-mortar restaurant owners are worried about lost revenue by having a few hours of food trucks near the courthouse lawn, here is another idea: A food truck park.
A town in Alabama boasts such a place. It can accommodate 12 trucks and has dog-friendly amenities. It's accessible to visitors and downtown workers. They even have an indoor seating area and Wi-Fi.
Prescott wouldn't need anything that fancy. Maybe a bit of land slightly off the main drag with concrete pads for six trucks, with electric and water hookups and picnic tables, sort of campground-style.
There is a parking fee for daily use that truck owners would pay. They set up on a first-come, first-serve basis. There are set hours and rules. The space would also be an alternative site for smaller downtown events.
The project in Alabama was the brain child and financial responsibility of a local developer who also has nearby storefronts.
No, Prescott doesn't have the money right now to undertake this type of project, but is there an entrepreneur out there who does?
The Prescott food truck festivals are fun events and can still be held successfully because it'll be a larger choice of food in one place. Having access to food trucks each day would not adversely effect a bigger festival – other towns support both.
Prescott tourists and residents are drawn to the fun, walkable downtown. Business owners and officials should be working to enhance that draw, not making it difficult for new ventures to join in.
More like this story
SUBMIT FEEDBACK
Click Below to:
This Week's Circulars
To view money-saving ads...