Chew on This: Deano's Sweet Potato Café

By
Max Efrein
|
mefrein
Originally Published: August 18, 2016 9:46 p.m.
What: Deano's Sweet Potato Café, 443 Miller Valley Road, Prescott
Hours: 7 a.m. to 2 p.m. (closed Tuesdays)
Contact: 928-771-2233
Online: www.sweetpotatocafeprescott.com
Sweet potato fries, bread and pancakes are only a taste of what makes Deano's Sweet Potato Café a unique breakfast experience in Prescott.
Located off Miller Valley Road across the street from the U.S. Post Office, the quaint spot is known for being clean, friendly and providing a good number of healthy options on its menu.
Dean Herbert came into possession of the 17-year-old restaurant about three years ago by what Herbert considers a serendipitous blessing.
"Gosh, it's a great story," Herbert said.
He used to be the Food and Beverage Director/Executive Chef at Prescott Lakes Golf and Country Club. One day he decided to hire Trish Bauer to fill one of the club's chef positions.
Bauer had been the founder and owner of Trish's Slow Food Café for several years before selling it to slow down more than her food.
"I was getting tired," Bauer said.
Unfortunately for Bauer, the gentleman she sold to couldn't handle the responsibility, so she ended up taking the restaurant back about two years later — much to Herbert's dismay.
"I was like 'you can't leave me,'" Herbert said. "She was just an engine. Great cook, cleaning bee, the whole package."
To avoid a legal matter with the previous owner, Bauer had to change her restaurant's name. She decided on Sweet Potato Café — at which point all of the sweet potato-based menu offerings were added.
"I love sweet potatoes," Bauer said.
The day before she was set to open the business, Herbert was laid off from his job because Prescott Lakes Golf and Country Club shuttered in the midst of a merger. He quickly got in touch with Bauer, found out she was just about to reopen, and immediately got a job working for her.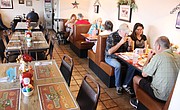 "So I was laid off for like 24 hours," Herbert said.
Three months later, Prescott Lakes Golf and Country Club's merger wrapped up and Herbert was offered his job again.
"So then I had to do the same thing to her," Herbert said. "I told her 'Shoot Trish, I love you, man, but I gotta go back to making some real money."
Three years passed. Herbert did his thing and Bauer did hers. Then Bauer threw in the towel again. She wanted to make sure this sale stuck, so she offered it to Herbert.
"I really had a lot of faith in Dean," Bauer said.
As tough of a decision as it was, Herbert agreed.
"It was kind of scary, but I had a little bit of equity and said 'I think I can take this risk,'" Herbert said.
Due to his personality, Herbert said he didn't take a day off for the first seven months.
"I have to touch everything, I have to feel everything, everything has to be perfect," Herbert said. "If it's not perfect, I don't want it coming out here."
Regular diners Anne and Ray Carver can attest for the restaurant's consistency.

"We really like this place right here," Ray said. "It never changes. It always tastes the same."
"We love the staff," Anne said.
The only criticism the couple had to offer is they wish the restaurant had more parking.
"We've had to come in and leave because we couldn't find a spot," Anne said.
Both said the omelets are especially tasty.
"And I always have to get that little sweet potato bread, cause that's a topper," Ray said.
More like this story
SUBMIT FEEDBACK
Click Below to: