VIDEO: New principal greets students as schools reopen
Former Territorial principal takes over at Del Rio Elementary School
Originally Published: August 17, 2016 5:15 a.m.
Photo Gallery
Del Rio First Day Of School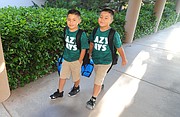 Ask Chino Valley Unified School District Superintendent John School or CVUSD Governing Board President Peter Atonna what stands out about the new principal at Del Rio Elementary School, Carolyn Reeder, and they both mention the same thing.
She's a whiz with spreadsheets.
"She is great at data analysis," Scholl said.
"One of the things I love about her is she is really focused on the academics of her kids," Atonna said.
Reeder takes over as principal for Susan Clark, who retired at the end of last school year. This is not, however, her first experience as principal. She was instrumental is starting Territorial Elementary School and served as its principal, until the district was forced to close it in a cost-cutting move.
She has been the assistant principal at Heritage Middle School since then and Scholl and Atonna said she was the first person they considered when Clark announced her retirement.
So what does being a spreadsheet expert offer a principal?
Reeder said that this year she intends to use Cougar Time to target students, giving them the extra work they need in the subjects that they are struggling in the most.
In the past, Cougar Time was the same time for all students. This year Reeder is spreading it out so that she can maximize the time so her six extra teachers can work with more students.
"It's not going to be what they want to work on," Reeder said. "It's targeted skills. It will be what they need to work on. You have to look at the data to find out what the students need."
There are some new programs being added this year because Del Rio is adding fifth grade this year. One is a quilt club, a band, an art program, and another is an archery club for fourth and fifth graders.
"We had to cut art a few years ago, so it's great to have it back," Reeder said. "We've had a lot of support from the community, the Lionesses and several community people."
One of the things aiding Reeder's transition into her new role is that most of the students at Del Rio were there last year. No new class has moved there, as the first grade stayed at Territorial Early Education Center. And this year the fifth grade class stays at Del Rio instead of going to Heritage.
One new role for Reeder is being a television producer, taking over the KDRN broadcast that begins each morning at the school.
"I have a lot to learn there," she said.
Reeder said being the principal at Territorial when it closed was difficult.
"Oh man, giving up my school, giving up my kids, giving up my teachers … it was tough," Reeder said.
She also take it well when they built a bus barn on the school grounds.
"They're parking the buses and the vans on my concrete slab that had the world drawn on it," she said. "You invest, you invest so much of your time and energy and even more of you. Your heart and soul is there, that was hard."
One thing that has helped that difficult experience is coming back to an elementary school and running into some of her old students.
"A lot of the students remember me, 'Hi Mrs. Reeder.' Seeing them and getting hugs from them has been great."
More like this story
SUBMIT FEEDBACK
Click Below to: