Northern Arizona Suns fill out coaching staff, front office
Ellis On Coaching Staff: 'I've got three guys that are phenomenal'

Originally Published: August 15, 2016 2:53 p.m.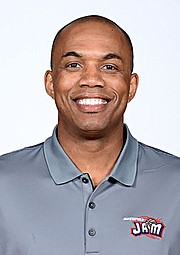 PRESCOTT VALLEY — After naming Tyrone Ellis the first head coach in club history last week, the Northern Arizona Suns officially announced the rest of the coaching staff and front office positions Monday afternoon.
Bret Burchard, Tyler Gatlin and Brandon Rosenthal were named assistant coaches under Ellis, while Jonathan Mak will serve as head athletic trainer in addition to strength and conditioning coach.
Burchard will be the lead assistant for Northern Arizona, Ellis said.
"Bret came highly recommended by everyone in the Phoenix Suns staff," Ellis said, adding that it's always hard for a head coach to come into a new situation when certain potential assistants are "recommended," but Burchard was different.
"I will honestly say even if he wasn't [highly recommended], I would still feel extremely fortunate to have him," Ellis said. "He knows exactly what coach [Earl] Watson wants. He's a basketball coaching gym rat … we mesh really well together."
Ellis said it's dually important to not only develop the players under his watch, but the coaching staff as well.
"It's important that they are better at the end of the season," Ellis said. "I was that guy the last four years, so I know how important it is to be that sounding board for the players. I don't want to coach everything, I want to trust my staff to go in and do a good job. That's how they'll develop."
Ellis, who will lead the NBA D-League Suns into their first season at the Prescott Valley Event Center this fall, was the lead assistant for the Bakersfield Jam during the 2015-2016 campaign.
The Phoenix Suns purchased the Jam and moved the affiliate to Prescott Valley in April, sparking major interest locally with nearly 400 season ticket packages already sold.
Ellis previously worked one season each for the Grand Rapids Drive, Reno Bighorns and Tulsa 66ers as an assistant coach after spending a decade playing professionally in Europe.
Burchard comes to Northern Arizona spending the past two seasons as video coordinator for the Phoenix Suns, while Gatlin rejoins the staff after serving as an assistant in Bakersfield. Rosenthal joins the organization after spending last season in the video department for the Houston Rockets.
"I've got three guys that are phenomenal," Ellis said.
As for Mak, he's also a holdover from Bakersfield, originally joining the club for the 2013-2014 season.
FRONT OFFICE
The basketball operations staff includes general manager Bubba Burrage, assistant general manager Louis Lehman and director of basketball operations and player personnel, Dylan Debusk.
Ellis said he feels very comfortable with the front office because they already know and trust each other.
"I feel very blessed to work for Bubba," Ellis said. "He's one of the most genuine guys that work in this business. … He's done a good job teaching and mentoring."
Burrage served as general manager in Bakersfield, and is director of player personnel for the Phoenix Suns. He possesses 23 years of experience in the NBA and initially joined Phoenix in 2011 as the team's head pro personnel scout.
Lehman previously held the assistant general manager position in Bakersfield. Additionally, he will serve as manager of basketball operations with the parent club in Phoenix.
Receiving a promotion, Debusk comes to Northern Arizona after being director of basketball operations with the Jam.
BANKING & BASKETBALL
Robert Sarver, managing partner of the Phoenix Suns, will be on hand Thursday, Aug. 18, to chat with the local community about the upcoming Northern Arizona Suns season, and officially introduce Ellis as the next head coach.
Doors open at the Prescott Valley Event Center at noon, and the event begins at 12:30 p.m.
Brian M. Bergner Jr. is a sports writer and columnist for The Daily Courier. Follow him on Twitter, Instagram, Periscope and SoundCloud at @SportsWriter52, or on Facebook at @SportsAboveTheFold. Reach him by phone at 928-445-3333, ext. 1106.
More like this story
SUBMIT FEEDBACK
Click Below to: