Olympics Rundown: Rose wins golfing gold, USA basketball sneaks into Qfinals
Originally Published: August 14, 2016 10:16 p.m.
RIO DE JANEIRO — Even a lumbering start couldn't slow down the world's fastest man.
Aside from Usain Bolt becoming the first person to win three straight Olympic 100-meter titles, an exciting Day 9 of the Rio Games included Justin Rose winning the first Olympic golfing gold medal in 112 years with a two-stroke win over British Open champion Henrik Stenson.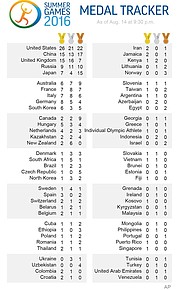 American teen sensation Simone Biles added a third gold in gymnastics, capturing the women's vault title, and the U.S. men's basketball team had yet another scare, this one from France, before advancing to the quarterfinals as the top, albeit shaky, seed.
Bolt added the Rio gold medal to the ones he won in Beijing in 2008 and London in 2012. After kicking off his gold spikes, he flashed a smile and his signature pose, the Jamaican flag draping from his shoulders.
Klay Thompson ended an Olympic-long slump with 30 points, and the U.S. needed almost all of them to hold off France 100-97 in basketball. It was the third straight close call for the favorites, who are looking as beatable as ever under coach Mike Krzyzewski.
Second-seeded Andy Murray of Britain beat Juan Martin del Potro of Argentina for his second consecutive Olympic singles tennis gold medal. His 7-5, 4-6, 6-2, 7-5 victory halted the resurgent run of the 141st-ranked del Potro, who knocked off No. 1 Novak Djokovic in the first round and No. 3 Rafael Nadal in the semifinals.
In the latest security incident to hit South America's first Olympic Games, Ryan Lochte and three other American swimmers were robbed at gunpoint early Sunday by thieves posing as police officers who pulled over their taxi and took cash and credit cards.
Nobody was hurt, but Lochte said one of the robbers put a cocked gun to his head.
"I couldn't believe it," said Michael Phelps, a good friend of Lochte's and one of his roommates in the athletes village. Phelps spent the evening with his family and wasn't out with his teammates.
Street crime is among the litany of problems the Olympics has struggled with. Brazil deployed 85,000 soldiers and police to secure the games. But last week a Brazilian security officer was fatally shot after taking a wrong turn into a slum, two Australian rowing coaches were attacked and robbed in Ipanema and Portugal's education minister was held up at knifepoint on a busy street.
In addition, stray bullets have twice landed in the equestrian venue, and two windows were shattered on a bus carrying journalists in an attack that local organizers blamed on rocks and others claimed was gunfire.
Among many other embarrassments are empty seats, long lines and green water in some of the Olympic pools.
Synchronized swimmers were greeted Sunday by clear blue water in the pool after officials worked through the night to replace the murky green water that prompted competitors to dub it "The Swamp."
Other highlights from Day 9:
SUMGONG'S SIDESTEP: Jemima Jelagat Sumgong had to evade a protester on her way to delivering Kenya's first gold in Rio, one which may have been saved by the swift intervention of security forces with a kilometer to go in the women's marathon. A man leapt over the railings waving a sign and two police motor bikes instantly cut him off.
NOMADIC NEYMAR: Brazil's men's soccer team, led by superstar Neymar, has arrived in Rio de Janeiro. Brazil played in Brasilia, Salvador and Sao Paulo. Soccer is the only competition that is played outside of the Olympic host city. Seeking its first soccer gold medal, Brazil plays Honduras in the semifinals Wednesday.
WRESTLING WITH WRESTLING? Shinobu Ota of Japan stunned seven-time Greco-Roman world champion and 2012 Olympic gold medalist Hamid Soryan of Iran 5-4. The world's oldest sport has undergone major changes. Matches now feature two 3-minute periods with cumulative scoring instead of the best-of-three format.
CHOPPY WATERS: While worries about water pollution marked the run-up to the Rio Games, it was really the whipping wind that stirred up trouble during rowing. For the first time since 1996, the Olympic regatta was not held in a purpose-built lake, but a natural lagoon that left rowers exposed to the elements in new ways.
JAPANESE JAMBOREE: Kei Nishikori gave Japan its first Olympic tennis medal in 86 years, overcoming a mid-match lull to beat 2008 champion Rafael Nadal for the bronze in men's singles. Nadal leaves Brazil with a gold medal from men's doubles for Spain.
More like this story
SUBMIT FEEDBACK
Click Below to: